Mario Shows Off Dance Moves, New Footage In Super Mario Odyssey Music Video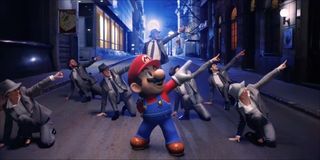 Nintendo has really been pushing Super Mario Odyssey quite heavily. The game is scheduled to release later this month, so it makes sense. Leading up to the release, a new music video has been published featuring Mario showing off his fancy Broadway-style dance moves.
The music video features the game's theme song, complete with vocals, as suit-and-tie wearing backup dancers offer Mario some help in showcasing his dance moves. The minute and forty second trailer was published over on the official Nintendo YouTube channel.
The first 30 seconds features the backup dancers, the singer, and Mario all performing along with the music. However, the game then switches to the actual in-game play where we see Mario and Cappy roaming through New Donk City.
The clip doesn't last long, and swaps back to Mario doing some more leg-bending, arm-wobbling dance moves before we get to see another clip of Super Mario Odyssey, this time highlighting the game's two-player cooperative mode, where one player controls Mario and the other player controls Cappy. This is a neat part of the video because it really hammers home all the different ways you can play the game while on the go, including in tabletop mode where two or more players can play a game while the Switch is positioned on a table.
We also get to see some of the vehicular gameplay in Super Mario Odyssey for the first time. Nintendo teased it a lot but we didn't really get to see what driving around on various vehicles is like in the game. In the portable mode we get to see Mario riding a scooter around New Donk City, weaving between traffic as if he were in GTA's Liberty City.
The music video moves at a rapid pace, however. It quickly showcases how Mario can use Cappy to capture environmental objects and fling Mario around the stage, along with some of the new costumes that the pudgy plumber can acquire throughout his journey across the various kingdoms.
We see Mario playing fetch with a dog on the beach while he's in swim trunks. We see Mario in a safari set as he races through ancient ruins, we also see Mario with a sombrero, trekking through hilly deserts.
The trailer rounds out with some more clips of Mario using Cappy to capture dinosaurs, Bullet Bill, fish and even a T-Rex.
If you weren't aware of the kind of things you could pull off in Super Mario Odyssey, the trailer is a fresh reminder of what the 3D platformer has in store.
You'll be able to play the game exclusively on the Nintendo Switch either by picking up a digital or physical copy of the game starting October 27th.
Your Daily Blend of Entertainment News
Staff Writer at CinemaBlend.