VR FPS Gunheart Makes A Major Update, Including A New Campaign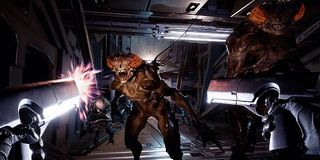 Gunheart is earning a lot of buzz in the VR space these days and, following its most recent update, we imagine the excitement will get kicked up a notch or two. The game now supports a bunch of new missions, a story-driven campaign and more.
If there's one thing developers seem to have gotten the hang of in virtual reality, it's shooters. But while some games boast a narrative (Arizona Sunshine), others are more akin to a classic arcade shooting gallery (Until Dawn: Rush of Blood). Thanks to the third and largest update coming to Gunheart, it'll be providing the best of both worlds. Here's a rundown of everything included for old hands and newcomers alike.
-Brand new campaign including an entirely new script and VO spanning nine story missions.
-20 new side missions in addition to the PVP challenges; and ongoing weekly missions.
-Expanded loot system including new weapon mods to discover, unlock, upgrade and mix-n-match such as the glass cannon, bloodlust, bubble shield, intravenous bombs, easy money, berserker and fly paper.
-30 new cosmetic items to acquire.
-New world elements: new bosses, "spawning bag" creatures, powerup printers and data pads.
-Enemy upgrades: dropships with new behaviors, improved buzzkills and continued hopper AI upgrades.
-Ongoing improvements, bug fixes and polish made to audio and sound, weapons and leaderboards.
Coming from the team at Drifter Entertainment, Gunheart takes place in a world where teleportation technology has just come online. Because of that, the furthest reaches of space have become a new frontier where everyone is scrambling to find riches or freedom. Unfortunately, we soon discover that we're not the only living creatures out in the stars, so we're going to have to do a bit of bug bashing if we ever hope to claim the cosmos for ourselves.
A co-op shooter, Gunheart is available on Steam Early Access for the HTC Vive and the Oculus Rift. The game will also be making its way to the PlayStation VR sometime in 2018.
In the game, players take on the role of mercenary mech pilots tasked with wiping out alien threats before they become too much of a problem. Rather than rely on diplomacy, though, you'll just be shooting anything and everything that moves.
Not that a campaign is necessary in VR shooters, but it's nice to see one getting added to Gunheart. Combine that with all of the existing missions, a whole bunch of new missions and all sorts of added loot and baddies, and it sounds like the game is becoming more of a fully realized games package. VR has only been going for about a year now, so it's no surprise that most games launching for the platform are still limited in scope. Hopefully, Gunheart is a sign that more developers are going all-in and trying to unique, fleshed out experiences for the platform.
Your Daily Blend of Entertainment News
Staff Writer for CinemaBlend.