Pokemon Go Is Challenging Players To Catch An Insane Number Of Pokemon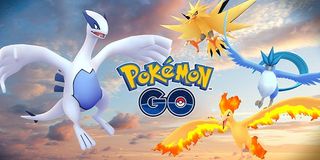 Niantic, the team behind the popular Pokemon Go mobile game, has announced a week-long challenge tasking players to catch a ridiculous number of digital critters in exchange for communal rewards. Lace up those walking shoes, because the global goal is a whopping 3 billion.
Even with every Pokemon Go player in the world working toward this common goal, catching 3 billion Pokemon in just seven days seems like an awfully big request. If you don't live in a community lousy with Pokestops, it's going to take a while to track down a handful of those pocket-sized monsters. But remember, this isn't a quest to catch the more rare breeds, so feel free to stock up on all of the fluff Pokemon that seem to run rampant no matter where you go hunting.
This worldwide event was recently announced on the Pokemon Go blog, where Niantic posted a video of trainers from all over the place inviting their fellow faithfuls to get out and get to catching.
All of this is actually in honor of a new promotion called Pokemon Go Travel. Niantic was spurred on by stories they've heard of players traveling the world to collect as many Pokemon as humanly possible. So while the rest of the world is lending a hand on those 3 billion catches, a collection of players from all over the world are being brought to Japan to film a series of videos and go on adventures.
Sort of a travel show with Pokemon Go serving as the backbone, participants will make several stops across Japan in order to catch critters, "visit new places, meet new people" and add their own numbers to the community total. If this all goes well, we imagine Niantic will be sending folks to another country at some point to film a similar video series.
Consider this your official call to action, as the event is live and running through Nov. 26. And depending on how many Pokemon are captured, the entire community will earn some special rewards. The Bronze tier is for catching 500 million Pokemon and will include things like a double experience boost and more Pokemon appearing globally. The silver tier is hit at 1.5 billion and includes additional in-game items and even more Pokemon appearing on a global scale. The Gold tier is for hitting that 3 billion goal and includes everything on the earlier tiers, as well as a 48-hour window to catch Farfetch'd worldwide and Kangaskhan specifically in East Asia.
We figure plenty of players will be traveling for the holiday weekend here in the States, so it might not be a bad idea to get in some extra time with Pokemon Go along the way. If nothing else, this should be some good training for the Harry Potter game coming next year.
Staff Writer for CinemaBlend.
Your Daily Blend of Entertainment News
Thank you for signing up to CinemaBlend. You will receive a verification email shortly.
There was a problem. Please refresh the page and try again.