How Nintendo Is Making Up For Animal Crossing: Pocket Camp Server Problems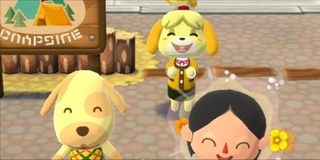 (Image credit: Nintendo)
It seems like a lot of games launch these days with expectations not being met and some ensuing server problems causing plenty of hiccups and halts for the fun times. Well, Animal Crossing: Pocket Camp for mobile devices was no exception, and Nintendo decided to offer some form of compensation for the server problems that gamers have been encountering. Free in-game currency.
Eurogamer is reporting on the server notice that Nintendo sent out to gamers, which informed them that shortly after the game launched the host servers experience extremely high traffic on November 21st, 2017, and the issues have been persisting ever since. The good part is that some people can still play the game, but the bad part is that it's an intermittent issue that can pop up and attack at any time while you're playing the game.
Nintendo has decided to compensate gamers who have been experiencing these server issues by giving out 20 free Leaf Tickets, which are used as cash shop currency in Animal Crossing: Pocket Camp.
Take note, though, you'll only have a limited amount of time to cash in on the free offer of Leaf Tickets. The bundle of tickets will be available as a gift package in-game that will be delivered to affected players' mailboxes. Nintendo has been sending out the gifts to player mailboxes starting November 23rd, 2017 and the gifting will end on December 23rd, 2017.
If you're unable to retrieve the free Leaf Ticket gift, the notice suggests closing out the app and then restarting it in order to retrieve the gift.
Once the gift is in your possession you can then proceed to use the Leaf Tickets as you see fit.
One of the things that really hampered the experience for gamers was that there are daily bonuses and requirements for Animal Crossing that requires players to log into the game every day in order to benefit from daily rewards. With the server issues preventing gamers from properly logging in, it meant that plenty of gamers missed out on the rewards, creating lots of frustration.
Some gamers wondered why Nintendo didn't just increase the server capacity for the game's launch? Well, it's tough to tell exactly what's required for some game launches, and in the case of Animal Crossing, I think there was a vast underestimation on how many people would actually be interested in playing the game on their mobile devices.
It's important to keep in mind that Animal Crossing is definitely lower on the rung of brands that Nintendo owns, so the company probably figured to only maintain server load for a moderate amount of users. Then again, Nintendo's other properties also had the same problem, including Fire Emblem: Heroes and Niantic Labs' take on Pokemon Go. It seems to be a common trend for Nintendo to underestimate how popular its brands and products really are. To the company's credit, it did scale the servers properly for some of the Nintendo Switch's early 2017 launches, including ARMS and Splatoon 2.
Staff Writer at CinemaBlend.
Your Daily Blend of Entertainment News
Thank you for signing up to CinemaBlend. You will receive a verification email shortly.
There was a problem. Please refresh the page and try again.