How Destiny 2 Will Be Fixing Its XP Problem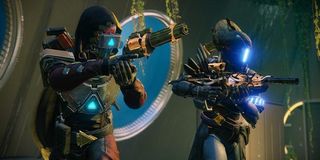 While many would argue that Destiny 2 made several improvements over its predecessor, it's clear that the community and even the developers are unhappy with the current state of the game. Bungie recently addressed many of the most pressing issues and how they will be tackled in the coming months, including the hot topic item of XP gains.
Over on the Bungie blog, the developer of Destiny 2 has unfurled a pretty impressive rundown of the current state of the game and, more importantly, how the team aims to address shortcomings moving forward. One of the most controversial issues is late-game XP gains, which are apparently a top priority. In fact, Bungie cancelled a planned promotional live stream for next week's big DLC drop just to address these topics instead.
According to the blog post, Bungie disabled the system in question, but that wasn't a good enough fix for the overall game. So now the work begins on rebalancing XP in Destiny 2 and, as the post notes, actually communicating any of those changes to the players.
Bungie admits that the current XP needed to level up is moving at too slow of a pace to feel rewarding. Once more data is collected, they plan to change that "as quickly as possible." Players have been told to expect a "lot of conversation" concerning these changes as Bungie figures out the correct formula to make Destiny 2 feel like it's rewarding play rather than grind.
In Destiny 2 it was discovered that earning XP was not only not uniform, but that players were not being properly informed of how the system worked. In short, players were earning more XP for taking part in big events like the Raid or PvP competitions while those who were chaining together smaller activities earned less XP. That actually kind of makes sense when you think about it, but the issue was that fans were not being informed of how much XP they were actually gaining for their efforts.
Once you hit the level cap in Destiny 2, earning XP and leveling up grants you access to a Luminous Engram; basically, loot boxes that boast cosmetic items. To that end, players felt that the game's XP system was pushing them toward buying those engrams with real-world money if they didn't feel like putting in the time to play through more time-consuming game modes. This is still a far cry from the controversy surrounding games like Battlefront II, but players never like feeling like they've been wasting their time while being lied to.
Again, the blog post touches on a lot of other points and fans of the game should really give it a full read. Our biggest takeaway is that it looks like Bungie has been digging deep into player feedback and plans to use that, as well as in-game data, to drive future development and make improvements. So long as they actually do that, we're looking forward to seeing where Destiny 2 goes next.
Your Daily Blend of Entertainment News
Staff Writer for CinemaBlend.