Final Fantasy XV Has More DLC Planned For 2018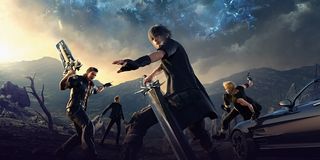 It's not often that a single-player focused game gets more than a year's worth of post-launch DLC attention, but that's exactly what fans can expect out of Final Fantasy XV. Moving into its second year out in the wild, the latest from Square Enix has a whole bunch of new content prepared for 2018, including at least three new "episodes" of DLC.
Over on the Japanese Youtube page for Final Fantasy XV, the publisher has put together a two-hour "Active Time Report" (via Gematsu) highlighting recent changes made to the game, as well as additional content set to arrive next year.
While FFXV launched in late 2016, a whole bunch of extra content has been added over the past 12 months. This included additional gameplay chapters focused on other characters, promotional crossover events with Assassin's Creed Origins and, most recently, a multiplayer update that lets players create their own character and set out on adventures with other players.
The 2018 calendar looks to be just as busy. However, Square Enix will not finalize those plans until the end of 2017. Once that happens, we can apparently expect another update with all of the details.
For the time being, Director Hajime Tabata has stated that he would like to release another three DLC episodes to the game throughout the next year, fleshing out the story of FFXV even further. The first planned episode will focus on Ardyn, which will apparently give more detail about the game's world. Tabata also mentions that he's heard fans want to see an episode focusing on Luna, though nothing has been announced yet.
It sounds like release dates for future DLC will remain nebulous for a while. We saw something similar this past year with Resident Evil VII. Caught off guard by the critical success of the core game, DLC was pushed back in order to allow the team to make it as good as they possibly could. Based on the FFXV report, Tabata is taking a similar approach, saying that DLC won't be made available until it's "sufficient."
As a final note, Tabata states that he wants to create DLC for FFXV moving forward that surprises players. In other words, he wants content that's going to get folks who have left the game to want to come back and play some more.
That all sounds pretty fantastic if they can pull it off well. The term "games as service" has been thrown around a lot lately, but we'd say Final Fantasy XV is one of the few games that nails that concept, which is doubly surprising since it's not even designed to be a multiplayer game. The core offering was substantial, and all of this extra content seems to be adding quality experiences to what's already available. If that train keeps on rolling into 2018, we're happy to climb on board.
Your Daily Blend of Entertainment News
Staff Writer for CinemaBlend.