Here's What's In PUBG's First Xbox Exclusive Cosmetic Pack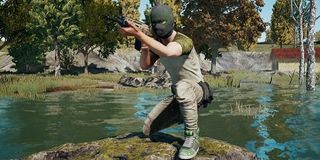 With PlayerUnknown's Battlegrounds set to launch on Xbox One next week, the developer has finally pulled back the curtain on some console exclusive cosmetic items that will be included in the game. Get ready to track down 99 enemies in style.
The Xbox blog (opens in new tab) recently updated with some Battlegrounds details, including gear that will be exclusive to Microsoft's platform. Those playing on PC shouldn't be too concerned, as there's nothing here that should make you too jealous concerning your console counterparts.
The wording of the announcement is actually a little confusing. For starters, it says that the first of three packs will become available starting Dec. 7. However, the Xbox One version of PUBG doesn't arrive until Dec. 12. We're thinking this means you'll simply be able to buy the gear before the game launches and have all of those customization options ready to roll once the game finally arrives.
Tomorrow's pack was first announced during Paris Games Week, and it's called the Warrior Pack. This pack includes a balaclava, a camo t-shirt, pants and tennis shoes that all boast some green flair. It'll set you back $10 and can be yours during the narrow window of Dec. 7-10.
The second pack, launching Dec. 14, is called the Accessory Pack. It will only be available until Dec. 17 and it'll set you back $4.99. The items for this pack aren't detailed, but the image seems to be focusing on a hat and a pair of gloves, again sporting a green pattern.
The third pack is called the Tracksuit Pack, and it can be yours from Dec. 21-22 for $4.99. It includes, as you might have guessed, a tracksuit with some green trim.
As a reminder, the game will only be available at the onset through the Xbox Game Preview program, which is basically a beta to make sure everything is running properly. These items are also the only gear you'll be able to purchase during this early phase so, if you're super worried about character customization, you'll want to grab them during those short timeframes.
Once the game is given the green light to go fully live, we imagine you'll be able to find it like normal in the Xbox Live Marketplace. The game itself should set you back about 30 bucks.
And if you just can't get enough PUBG news, you'll probably want to tune into The Game Awards on Dec. 7, as that's when the brand new desert map for the game will be officially revealed.
PUBG is already an insanely popular game, even with strong competition from the likes of other 100-player war games like Fortnite: Battle Royale. We imagine that finally bringing the game to the Xbox One is going to be an event worth celebrating.
Staff Writer for CinemaBlend.
Your Daily Blend of Entertainment News
Thank you for signing up to CinemaBlend. You will receive a verification email shortly.
There was a problem. Please refresh the page and try again.