MediEvil Is Getting Remastered For PS4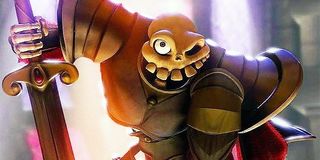 A lot of updates, trailers and announcements came out of PlayStation Experience last weekend, but the piece of news that old-school gamers seem to be most excited for is the fact that the PlayStation classic, MediEvil, is being remastered for the PlayStation 4.
The above trailer was revealed at the end of the PlayStation Experience kickoff event, where developers came out on stage to talk about everything from the new God of War to Death Stranding and Media Molecules bizarre new offering, Dreams. There was some good conversation to be had, as well as an interesting peek behind the curtain of development as studio heads enjoyed a sort of roundtable discussion.
At the end of the show, Sony Interactive Entertainment America CEO Shawn Layden unzipped his jacket and revealed a shirt boasting an interesting design. In recent years, Layden has done this to serve as a fun way to announce a new upcoming game, and the 2017 PSX proved to be no different.
This year's shirt boasted a tombstone design for one "Sir Dan," which original PlayStation fans immediately recognized as being a reference to the classic game, MediEvil. Layden explained that a lot of fans have been requesting a remastered version of the game, not knowing that the ball was already rolling in the background to make that actually happen.
The original MediEvil hit the PlayStation back in 1998 and, while it would be considered clunky by today's standards, it was something of a revelation when it first arrived. You're playing as a skeletal knight attempting to help save his kingdom from beyond the grave, so, obviously, the tone is lighthearted and fun.
I grew up as that kid known for loving Halloween a bit too much, so of course I was immediately drawn to a light gothic game that had you running around graveyards and castles, pulverizing undead baddies with a sword in one hand and a shield in the other. So, yes, I'm pretty stoked to learn that MediEvil will be enjoying a fresh resurrection on a modern platform, even if we don't have many details outside of that at this time.
According to the trailer, the MediEvil remaster will have a visual overall and 4K support. There was no mention of a release date, however, so your guess is as good as ours as to when we'll actually be able to play the game.
I'm guessing we can expect something similar to the recent successful remasters of the Crash Bandicoot or Oddworld series, or, also, the upcoming and highly anticipated remake of Shadow of the Colossus. In other words, don't just expect a fresh coat of paint. They'd need to pretty much build this from the ground up to make it stand out on the PS4 and, let's face it, they'd probably want to refresh the controls a bit while they're at it. Either way, consider me stoked!
Staff Writer for CinemaBlend.
Your Daily Blend of Entertainment News
Thank you for signing up to CinemaBlend. You will receive a verification email shortly.
There was a problem. Please refresh the page and try again.