Nintendo Power Is Making A Return In A Brand New Form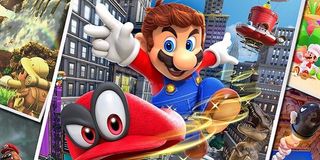 Nintendo Power has made a comeback, but not in the form you might have expected. Formerly a fan-favorite magazine covering all things Nintendo, the brand's resurgence takes advantage of modern technology and trends. In other words, it's a podcast!
Nintendo of America announced this week that Nintendo Power would rise from the ashes in a new form. Formerly a magazine, its pages used to be stuffed with features on games in development, informative interviews with creators, reviews, news and more. If it had anything to do with Nintendo, you could probably find it somewhere in the monthly periodical.
But as times changed, so too did the way people like to consume their information. The vast majority of game magazines disappeared, with Nintendo Power among them.
That's why so many folks seem to be excited for the Nintendo Power Podcast. The show is planned to feature basically the same kind of content but now in the form of recorded interviews and discussions.
Over on the Nintendo blog, it was announced that the first episode of the Nintendo Power Podcast is now live, available on Apple Podcasts, SoundCloud and YouTube. While it's not yet available on Google Play Music, that will apparently change in the near future. If you use Podcast Addict, though, I can personally confirm that it's there and ready to roll.
The blog post highlights what you can expect out of the first episode, which clocks in at a little over an hour in length. The cover feature, we'll call it, is an interview with developers Eiji Aonuma and Hidemaro Fujibayashi, the guys behind The Legend of Zelda: Breath of the Wild. After that, Chris Slate, Damon Baker and Kit Ellis will dive into all of the goings on for Nintendo throughout 2017. I haven't listened to the episode just yet, but I imagine the Switch will be a huge focus for the podcast, as well as noteworthy games like Mario Odyssey, Splatoon 2 and the plethora of big indie games that hit the console in its first year. I wouldn't be surprised to hear some notes about recent announcements pop up, too, such as the announced development of Bayonetta 3.
If you're unfamiliar with the hosts, Slate is the former editor-in-chief of Nintendo Power magazine, while Baker is from Nintendo Publisher and Developer Relations and Ellis is co-host of Nintendo's YouTube show, Nintendo Minute. It sounds like Slate is on board to be the podcast host as new episodes roll out, with guests including everyone from developers to all sorts of other people who work at Nintendo.
We're not clear yet on how regularly the podcast will air, but weekly or bi-weekly seems like a pretty safe bet. If you've already made it to the end of the episode and have a better read on regularity, feel free to drop it into the comments below.
Your Daily Blend of Entertainment News
Staff Writer for CinemaBlend.
Your Daily Blend of Entertainment News
Thank you for signing up to CinemaBlend. You will receive a verification email shortly.
There was a problem. Please refresh the page and try again.