The Surprising Company That May Be Behind Metroid Prime 4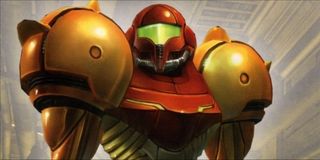 (Image credit: Nintendo)
Nintendo hasn't revealed much of anything about Metroid Prime 4 for the Nintendo Switch. The upcoming adventure shooter was announced last year during E3 but the company has been mum since then. Well, there is some new info that has emerged that indicates that a surprising company might be behind the development of Metroid Prime 4: Bandai Namco.
According to Eurogamer, Bandai Namco is reportedly working on the upcoming first-person shooter for Nintendo's hybrid game console. The article notes that the news originally started as a rumor, but Eurogamer decided to reach out and attempt to confirm the news for themselves. According to the article, multiple sources did indeed confirm the news that Bandai Namco is working on Metroid Prime 4. This doesn't guarantee that the news is true, but it definitely lends credence to the case.
More specifically, Bandai Namco Singapore is the one putting in the time and effort with Nintendo to work on the upcoming adventure-shooter. So, what do we know about Bandai Namco Singapore? Well, some of the staff working there had listed in their profiles that they were working on some big AAA projects. We also just recently reported on a developer who was signed on to Bandai Namco claiming he was working on an FPS project. Could that project be Metroid Prime 4?
While it might seem odd to some people that Bandai Namco would be given the reigns of a Nintendo property, keep in mind that Nintendo and Bandai Namco have had a fairly close relationship over the last two generations, with Bandai doing the heavy lifting on Pokken Tournament for the Wii U and the Nintendo Switch, as well as contributing to the development of Super Smash Bros. for the Nintendo Wii U and Nintendo 3DS.
Nintendo is no stranger to second-party support when it comes time to work on specific projects, especially if they're fairly large and ambitious, such as Super Smash Bros., or presumably, in this case, Metroid Prime 4.
It's understandable if some fans might be worried about this collaboration given that Bandai Namco isn't especially known for working on first-person shooters, and the history of the company is spotty when it comes to action-oriented titles outside of fighting games, beat-'em-up titles and adventure oriented platformers. The company is most known for Dragon Ball Z games, and just recently launched the highly popular Dragon Ball FighterZ for PC, PS4 and Xbox One.
Eurogamer does make a good point about this whole situation apart from Bandai Namco working on Metroid Prime 4: If Nintendo really wants to reel in gamers it might be best to release the first three games for the Nintendo Switch.
In fact, it would likely be very smart to stave off the release of Metroid Prime 4 to 2019 while releasing the trilogy of games from the GameCube and Wii onto the Nintendo Switch so that gamers who didn't play the earlier titles can catch up. Re-releasing the trilogy as an HD pack for a fall, 2018 roll out would be a smart move to help build momentum towards the fourth game. However, for now we'll just need to wait and find out just how much of a role Bandai Namco will be playing and how this will affect the development of the upcoming title.
Staff Writer at CinemaBlend.
Your Daily Blend of Entertainment News
Thank you for signing up to CinemaBlend. You will receive a verification email shortly.
There was a problem. Please refresh the page and try again.