Dragon Ball FighterZ Reveals First Two DLC Characters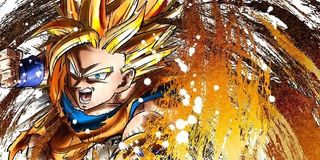 Dragon Ball FighterZ has only been out about a month and already Bandai Namco has pulled back the curtain on the game's first DLC additions to the cast. Get ready to pummel both Broly and Bardock.
This news comes to us from ShonenGames (via Siliconera), who broke the news via a two-page magazine spread. A handful of pictures show off the duo, along with a bunch of text that anyone who doesn't speak Japanese is going to have some serious trouble working through. Thankfully, the heavy lifting has already been done.
For the most part, the announcement states that Broly and Bardock will be the first DLC characters for the Dragon Ball fighter, though a launch date and price point have not been revealed. If you happened to pick up the DLC season pass, though, you're covered.
The only other information revealed through the magazine spread pertains to each character's Meteor Attack, as well as some in-game bonuses for folks who also own a copy of Xenoverse 2. Broly's big move is called Gigantic Meteor that blasts his opponent with a huge ki blast. As with all Meteor Attacks, this move will drain three bars from the Ki Gauge. Bardock's Meteor Attack is the Revenger Assault, where he goes full Super Saiyan and charges forward with a ferocious series of attacks.
As for those extra goodies, anyone who owns both Dragon Ball FighterZ and Xenoverse 2 will get some extra content in both games. Your copy of Xenoverse will be infused with some Android 21 costumes and accessories, while FighterZ will receive a Supreme Kai of Time lobby character and stamp. Those are nice little additions but, thankfully, nothing folks who don't own both games should feel too sore about missing out on. Similar to the DLC characters, we have no timetable on when to expect the cross-promotional content.
If you were to ask FighterZ players which characters deserve one of the game's upcoming DLC slots, we imagine Broly and Bardock would have been strong contenders. The former is a massive Super Saiyan who appeared in a trio of movies and gave the Z Fighters a real run for their money. Bardock, though, is Goku's father, who died defending the planet Vegeta from Frieza, an adversary Goku himself would eventually beat...And then he came back to life. What can I say? This is Dragon Ball. Things are cray-cray.
Being smaller but still significant characters, both Broly and Bardock have earned loyal fans over the years, and both have appeared in multiple Dragon Ball games. It makes perfect sense that they'd lead the DLC charge and, now that the more obvious picks have been announced, we can't help but wonder who the remaining additions will be. Feel free to drop your wish list in the comments below.
Staff Writer for CinemaBlend.
Your Daily Blend of Entertainment News
Thank you for signing up to CinemaBlend. You will receive a verification email shortly.
There was a problem. Please refresh the page and try again.