Shadow Of The Colossus PS4 Remake Team's Next Project Is Another Remake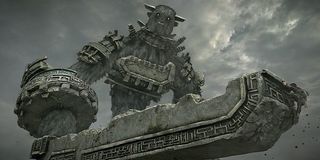 The team at Bluepoint Games is hard at work on its next game, but how do you follow a project as grand in scale as the recent Shadow of the Colossus remaster? Apparently the answer is, "with another remake, only bigger."
In a recent interview with Digital Foundry (via Eurogamer), Bluepoint's Marco Thrush revealed that the team could very well be working on an original IP by now but, instead, they've decided to tackle another remaster. While Thrush would not reveal what the project is, he did note that it's an even bigger game than their recent Shadow of the Colossus, which wowed fans and critics alike on the PlayStation 4.
According to Thrush, the team decided to take on another remaster in order to hone their skills, continue evolving their ideas and continue testing their tools, specifically in the art department. Thrush stated that Shadow offered tremendous growth opportunities for the team at Bluepoint, but that the developer wanted to continue growing, improving workflow for artists, etc.
It's kind of surprising that Bluepoint has not decided to move on to another original IP at this point, but the remaster business has treated them quite well over the years. Thrush states that the team could absolutely handle their own big-budget game at this point, but they prefer to keep on learning through remakes and the like. Plus, after how well Shadow of the Colossus turned out, we figure there was another big remake sitting around that a publisher was likely itching to get them to sign on to.
Bluepoint has actually been around for about a dozen years, first hitting the scene with Blast Factor for the PlayStation 3. Their foray into remakes kicked off soon after, working on collections for God of War, the PS3 Ico and Shadow of the Colossus bundle, as well as the Metal Gear Solid HD Collection. Their PS4 remasters have included both the Uncharted collection and Gravity Rush.
If I had to make a guess (or state some wishful thinking, really), I wouldn't be surprised if their next project is the frequently rumored remake of PlayStation All-Stars Battle Royale. Bluepoint worked with Santa Monica Studios to make the first game which, despite finding little traction, I still hold was a fantastic 2D brawler in the vein of Super Smash Bros. Since they already had a hand in the original game, Bluepoint would make perfect sense to be brought on for a remaster. Plus, a new version of the game would likely go for a cheaper price point and, coupled with online multiplayer on a modern console, it might give the game a second shot at earning a solid fan base.
Whatever game Bluepoint is working on, Thrush said the team is excited and suspects fans will be excited, too. So, we'll just have to wait and see.
Your Daily Blend of Entertainment News
Staff Writer for CinemaBlend.