UFC 3 Is Adding An Unlikely New Fighter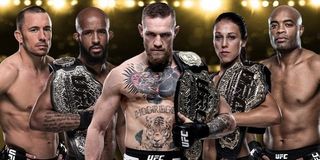 The recently released UFC 3 got a new addition to its roster this week, but it's definitely not your traditional mixed martial artist. Instead, it's promotion president Dana White, who is probably a more formidable opponent than many realize.
When Dana White and UFC come up in the same sentence, it's usually because the guy runs the whole show. He handles loads of interviews with fighters, he's appeared on UFC reality television shows, he's kept competitors from going toe-to-toe early at weigh-ins and he typically hands off the belt when a new champion has been crowned.
He's also really into physical fitness and has trained as a boxer. We figure, getting to know all of these mixed martial artists over the years, he's probably done some training in various other disciplines, too.
So it's not too big of a surprise that White is finally a playable character in UFC 3, which launched in early February for Xbox One and PlayStation 4. He was released this week as a free bit of DLC, which means players can step into the octagon with White and either challenge other fight legends or, you know, serve as your own personal punching bag.
White, for his part, has been a good sport about the DLC, stating in various interviews that it's something fans have been asking for over the years. He admits that many MMA fans have wanted to go a few rounds with him, so now they finally have the chance to do exactly that.
Again, White is a trained boxer and, back in his early days as president of UFC, he and then-star Tito Ortiz nearly stepped into a boxing ring for an exhibition. They had some pretty typical beef brewing at the time but, come weigh-in day, Ortiz never made an appearance. That was probably a good call, as neither outcome of the fight would likely be good for him.
It appears the latest UFC game is pulling from White's past, as he's probably not in that kind of fighting form these days. His stats are also a little surprising within the game, giving him a striking rating of 91 and a health of 90. Still, it's not totally unrealistic, as his ground game and staying in for the long haul are his weaknesses, with both grappling and stamina getting a rating of 86.
Reviews for UFC 3 have been pretty stellar, with the game's extensive roster, improved mechanics, a laundry list of modes, and new features receiving lots of praise. If all of that still isn't enough to convince MMA fans to pick up the game, maybe the prospect of popping Dana White in the mouth will change their mind.
Your Daily Blend of Entertainment News
Staff Writer for CinemaBlend.