New Detroit: Become Human Trailers Introduce The Cast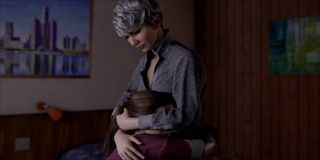 Quantic Dream released three new trailers for Detroit: Become Human, introducing gamers to the three main cast members from the upcoming title, including Kara, Connor and Markus. Each of the three characters have their own storyline and motivations, with slight crossovers between the three.
All three trailers were recently posted up on the official PlayStation YouTube channel. Each trailer is only half a minute long and it starts with the female android, Kara.
Kara first actually made an appearance many years ago in a PlayStation 3 tech demo that Quantic Dream released to demonstrate some of its animation tech that would later be applied to Beyond: Two Souls and now Detroit: Become Human.
The trailer for Kara starts with Kara and Alice. Kara tells Alice that they only have each other and that she'll do everything within her power to protect Alice. We get glimpses of the duo out and about, presumably living free from the tyranny of oppression.
The story of Kara and Alice is themed around domestic abuse, when Alice's father becomes physically abusive after his wife leaves them. He takes out his aggression on his daughter and on his robot maid, Kara. Eventually, the duo plan an escape to get away from him.
The second trailer is for Markus, an android who became self-aware and free.
Markus' freedom comes with a price. He begins to "wake up" other androids, bringing them freedom as well. This encourages a pushback from humans, who despise the sentience being gained by certain androids.
Markus' journey is unique insofar that players will be able to choose how he goes about rebelling. The brief profile trailer above features veteran actor Lance Henriksen from Aliens and The Terminator, giving Markus some pointers on how to go about completing his journey.
The trailer is interspersed with a variety of clips showing Markus and his ability to camouflage as a standard android.
The last trailer for Detroit features the special law enforcement android, Connor.
We see Connor rather frequently in the promotional material of Detroit: Become Human. Connor's job is to apprehend and subdue deviant androids... like Markus and Kara.
Players will have a choice in how they deal with deviants while playing as Connor, doing them in or letting them go free. Much like Quantic Dream's previous outings, players will be able to pick and choose outcomes for each character, and the game will continue to move forward even if one of those characters die.
You can look for Detroit: Become Human to launch exclusively for the PlayStation 4 come May 25th, 2018.
Your Daily Blend of Entertainment News
Staff Writer at CinemaBlend.