Xbox Game Pass Adds State Of Decay 2, More, In May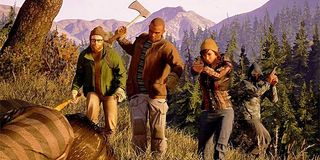 Xbox Game Pass is set to expand with another eight titles in May, including the brand new State of Decay 2. The remainder of the lineup includes a little something for everyone, from an old-school platformer and a sports offering to a cooperative cooking contest and beyond.
One of the best parts of Game Pass is that Microsoft has made an effort to launch quite a few titles day and date on the subscription service. That holds true in May, when three brand new games will debut on Game Pass the same day they become available for purchase.
First up is the biggie, State of Decay 2. Fans have been waiting a long time to return to the zombie-infested world of State of Decay, and this sequel looks to add a metric ton of new content to the first game's formula. Whether you're picking it up on its own or are looking to download it as part of the Game Pass, look for State of Decay 2 to arrive on Xbox One on May 22.
Also launching day and date on Game Pass is the futuristic sports game, Laser League. Available May 10, Laser League is an arcade multiplayer shooter from Roll7 that pits teams of two to four players against each other in a wild combat series where parts of the map become deadly courtesy of the titular lasers. It looks like a lot of fun, and it can be yours on launch day through Game Pass.
Finally for the day and date lineup, Pro Evolution Soccer 2018 will also arrive on Game Pass during its launch day of May 1. The only difference here is that the annual soccer title will only be up for grabs for a limited time, so you might want to consider downloading it before the deadline drops on Aug. 31.
Those three brand new games will be joined by another five titles in May, including Unmechanical, the classic Sonic & Knuckles, Homefront: The Revolution and The Escapists. Those games are great and all, but we're especially excited for Overcooked, the cooperative multiplayer game that ruins friendships by having everyone try to create perfect meals in the hustle and bustle of an active kitchen. The dishes get more difficult and the kitchens themselves become part of the puzzling goodness as you progress through the levels.
And that will about do it for the May Game Pass roster. As a special note, anyone who signs up for Game Pass between now and May 8 will receive their first month of the service for $1. That means you'll have 30 days to play more than 100 games for an unlimited amount of time for a buck. If you like what you see, the full service is usually about 10 bucks a month.
Your Daily Blend of Entertainment News
Staff Writer for CinemaBlend.