Monster Hunter For Nintendo Switch Is Finally Heading West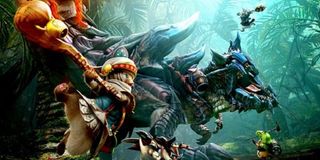 Nintendo Switch fans have a busy summer ahead of them, as Capcom announces the impending arrival of Monster Hunter Generations Ultimate for the portable/home console hybrid.
This announcement has been a long time coming, with many thinking that the game would actually skip a release outside of Japan. An updated version of a 2016 3DS game and originally named Monster Hunter Generations XX in Japan, this new iteration of the game boasts all sorts of improvements on the original, along with the updated graphics expected when you move a game from something like the 3DS to the Switch.
But XX launched in Japan about a year ago and, last anyone heard, Capcom had no plans to bring it to other regions. This was pretty surprising, since the Monster Hunter series has done pretty-dang well outside of Japan in recent years. Also, the Switch is still a new console and selling like mad, so you'd expect any publisher to want to get one of their biggest properties onto the hardware in as many regions as possible.
Earlier this year, Monster Hunter World finally hit the scene on the PlayStation 4 and Xbox One, offering a more accessible entry point for folks who had not given the series a try yet. In case you haven't been following the news these past few months, World turned out to be a runaway success but, despite that fact, Capcom still didn't appear interested in bringing their other recent Monster Hunter game to the Switch.
Then, out of nowhere, Capcom released the above trailer late last week announcing that, yes, Generations for the Switch would be making its way out of Japan. Fans, obviously, have gone a bit crazy with excitement over the news. We've still got a bit of a wait with its Aug. 28 launch date, but at least we no longer have to wonder if hunting monsters on the Switch will ever happen.
Again, I should probably reiterate that there are a lot of differences between Generations and World, but that doesn't mean you shouldn't give it a try. World streamlined a lot of systems and literally axed some of the more tedious activities/requirements from traditional Monster Hunter games. Also, fans of exploring an open map might be a little surprised to find that the Generations locations are broken into segments. Still, the changes in systems shouldn't take that long to get used to and the basics of hunting are still the same.
In Generations Ultimate, you'll have around 100 large monsters to hunt, which is a big step up over the World roster. And on top of all of those weapon types, you'll also have some cool hunting styles to help augment your abilities.
In short, if you have a Nintendo Switch and you enjoyed Monster Hunter World, you'll almost certainly want to give this a try.
Staff Writer for CinemaBlend.
Your Daily Blend of Entertainment News
Thank you for signing up to CinemaBlend. You will receive a verification email shortly.
There was a problem. Please refresh the page and try again.