Bloodstained: Ritual Of The Night Delayed Again, Canceled On PS Vita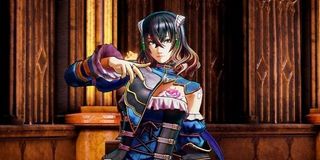 Director Koji Igarashi has made a couple of announcements concerning his upcoming game, Bloodstained: Ritual of the Night, including a delay into 2019 and removal of the Vita from the list of supported platforms. That's sure to disappoint quite a few of the crowdfunded game's eager fans, though neither revelation is all that surprising.
Iga took to Kickstarter today to post a video wherein he explains that Bloodstained: Ritual of the Night is being delayed into some unspecified time in 2019. Expected to launch later this year, Iga explained that the reason for the delay, as is often the case with these types of games, is that the team needs more time to make sure it's the best product it can be. The video isn't too snazzy so, if you'd rather just read the full statement instead, it's available below the video on the blog update.
What's really interesting about Iga's statement is that he claims the game is being further tweaked based on fan feedback, specifically as it pertains to the reception of Bloodstained: Curse of the Moon. That prequel was designed to look and play like a SNES title that introduces players to the world of Bloodstained. A free bonus for Kickstarter supporters, the game was also sold on digital markets upon launch. It actually received some rather stellar critical acclaim, noted for its great soundtrack, nostalgic enemies and level design and some new-school ideas that made it a heck of a lot of fun to play. Iga's team also recently launched a fresh demo for Ritual of the Night, which we suspect has also offered some valuable feedback to help further development.
Ritual of the Night launching in 2019, however, means that the team is no longer pursuing a version of the game for the PlayStation Vita. Sony has announced that they will be discontinuing the handheld gaming device, as well as physical media for the console. Iga also mentions Sony will be stopping "certain online store support features." Roll all of that together and it's not hard to understand why the team has decided that putting effort toward delivering a Vita version of the game just isn't worth it anymore.
While some folks in the comments are understandably upset about the delay and the Vita cancellation, others have chimed in with support, saying they'd rather the game take a bit longer and deliver a quality experience.
Back when Bloodstained first hit Kickstarter and was hailed as a spiritual successor to the Castlevania series, it managed to gain support from 64, 867 backers. That totaled more than $5.5 million for the project when only $500,000 was initially being asked for. Originally planned for a March 2017 launch, this latest news means that Bloodstained will likely miss its planned release by at least two years.
Staff Writer for CinemaBlend.
Your Daily Blend of Entertainment News
Thank you for signing up to CinemaBlend. You will receive a verification email shortly.
There was a problem. Please refresh the page and try again.