The Last Remnant Is Finally Coming To PlayStation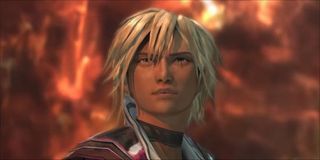 Way back in 2008 Square Enix released a highly anticipated 3D JRPG called The Last Remnant. It was one of the games considered to be a next-generation title for the then seventh generation of home console gaming. This was also during the time when Microsoft was heavily courting Japanese game development studios and publishers in order to make games for the Xbox 360. The Last Remnant was one of those games, alongside other cult classics such as Lost Odyssey and Mistwalker Studios' Blue Dragon. Many JRPG fans were disappointed to find out that games like The Last Remnant were not available on the PS3, and after some begging and pleading gamers managed to get Square Enix to announce the game for the PS3 but it never came out. Recently Square Enix finally decided to follow through with the initial announcement from nearly a decade ago, and release The Last Remnant on a PlayStation console for the very first time.
The 'M' rated The Last Remnant finally received its first ever PS4 trailer, featuring half-a-minute's worth of content. It's more of a teaser trailer than anything, simply revealing that for the very first time ever PlayStation only gamers will be able to play through the role-playing title starting December 6th, later this year. The trailer doesn't showcase any actual gameplay and we have no idea how it will actually run on Sony's system, but that hasn't stopped fans from getting excited about the possibilities that lie ahead.
One thing that Square does mention is that this is slightly closer to a remake than a remaster or a re-release. You see, the game is being refitted to run on the Unreal Engine 4. Back in 2008 when it first released it was running on an unstable version of the Unreal Engine 3, causing the game to suffer from performance issues and LOD streaming glitches. These were very common issues for that build of the Unreal Engine, affecting other projects like Too Human.
Moving the game over to the Unreal Engine 4 also comes with added graphical upgrades and HD overhauls. So the game should look and run a lot better than it did when it first released a decade ago.
Given that this was just a teaser trailer, we have no idea what other changes or upgrades are taking place, but considering that it's several months out from release, I suspect Square will take its time in pumping out the info and getting gamers geeked for the upcoming re-release.
Obviously, this sent some fans into a tizzy and they have been requesting for Square to also re-release Lost Odyssey as a remake or remastered edition as well.
I'm pretty sure Square will monitor the sales and reception of The Last Remnant and depending on how well it does will determine if more games will also get the remaster treatment.
Your Daily Blend of Entertainment News
Staff Writer at CinemaBlend.