You'll Need To Pay For Switch Online To Get Those Awesome Classic NES Controllers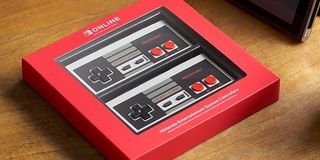 If you were hoping to get your hands on the classic NES controllers revealed during last week's Nintendo Direct, then you need to be a subscriber to the soon-to-launch Switch Online service. According to the listing for the controllers, they are being sold as an exclusive offer to subscribers.
A short portion of last week's Nintendo Direct was dedicated to the Switch Online premium service. In short, you can pay $3.99 a month ($7.99 for three months or $19.99 for a year) to gain access to things like online gaming, a catalog of classic NES games, cloud storage and "exclusive offers." It turns out one of the first offers are the NES controllers that also made an appearance during the Direct.
On the Nintendo website, the controllers are listed as an "Exclusive product offer," meaning you have to be a subscriber to Switch Online to even gain the ability to pay $59.99 to purchase a pair of NES controllers for the Switch. That seems a bit odd until you consider the fact that the controllers are only good for playing the NES games, which Nintendo only plans to make available through their premium service.
The reaction to the controllers being "hidden behind a paywall" seems to be pretty negative but, without analog sticks and a couple extra buttons, the NES controllers couldn't even be used to play games like Super Mario Odyssey or Breath of the Wild. Sure, developers of games requiring fewer inputs could plan for NES controller support, but that doesn't seem like a case that would pop up too often. So, again, you can only buy the controllers if you subscribe to a service that offers the only games they can be used to play. It makes perfect sense when you look at it that way, but I agree the optics are poor for Nintendo.
As for the controllers, they have a rechargeable battery that works the same as the Switch's standard Joy-cons and can simply be slid onto the console for charging. If you decide to pick up a pair for 60 bucks, shipments will start rolling out in mid-December.
The only other exclusive offer currently on display on Nintendo's website is for folks who pick up the full year subscription or a family plan, and it's exclusive gear for Splatoon 2. This gear includes a pair of shoes with the Switch logo on them and a white jersey that says "Online" in katakana. It's not especially eye-catching but, hey, it's free.
Moving forward, what other exclusive offers would you like to see tied to Switch Online? More unique loot in games? The occasional discount on first-party titles? Let us know in the comments below.
Staff Writer for CinemaBlend.
Your Daily Blend of Entertainment News
Thank you for signing up to CinemaBlend. You will receive a verification email shortly.
There was a problem. Please refresh the page and try again.