Mario Is Getting A Zombie Makeover In Odyssey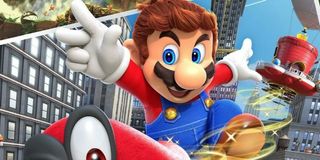 With Halloween getting into full swing, Nintendo decided it was about time to get in on the frightening festivities and do so in a way that you probably weren't expecting. Yes, Nintendo is embracing the dark side, and Mario has become the prime target of their devilish tactics, turning the usually bright and happy plumber into a decaying member of the undead.
The news was posted on the Nintendo of America Twitter account, where it was revealed that there's a special new outfit in Super Mario Odyssey, featuring Mario in the new Zombie Headwear and the Zombie Outfit that you can pick up for the titular hero.
Mario is decked out in in green skin with ragged, dirty white gloves. His iconic red hat with the white logo on it is replaced with a red axe with a silver tip... the axe is also firmly lodged into the top of Mario's head, meaning that someone tried to off the zombie version of Mario. This also means that Mario's sidekick Cappy is no longer on Mario's head either. The plumber is also missing one shoe, and he doesn't appear to have any pupils. His overalls and red shirt are also tattered and ripped.
A few people posted their theories about how Zombie Mario came about, with a few pointing to Ridley from Super Metroid having a stab at Mario during the Super Smash Bros. Ultimate cinematics, which resulted in him dying. So, now they believe that Zombie Mario straggled his way back into Super Mario Odyssey after being offed by Ridley.
The new costume didn't arrive all by its lonesome, though. Nintendo also informed gamers that the Nintendo Switch exclusive was updated with three new filters as well, including a monochromatic manga filter to give the game a snazzy pencil and ink look, as well as a tile filter that depicts images as if they are on large pixelated tiles, and, finally, there's the kaleidoscope effect that adds a geometrically mesmerizing aesthetic to the screenshots. All of these filters are available now in the Snapshot Mode of Super Mario Odyssey.
There's also a lot of discussion on the Twitter thread for the game, obviously, including requests for more costumes and characters to appear in the Nintendo Switch exclusive. And, yes, there are even a few people requesting for the fan-made rendition of Bowsette to pop up in the game as Zombie Bowsette.
For now, Nintendo is focused on the new Halloween-themed update for Super Mario Odyssey. You can get your hands on the new costume after you beat the main game. Simply head to one of the in-game shops and you'll find the Zombie Mario costume available for purchase in two separate parts.
You can either pick up a digital or physical copy of Super Mario Odyssey right now for the Nintendo Switch. The Halloween update is also available right now for those of you who already own a copy of the game.
Your Daily Blend of Entertainment News
Staff Writer at CinemaBlend.