How To Train Your Dragon Game Coming Alongside The New Movie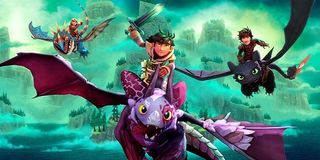 DreamWorks is putting some serious muscle behind its How to Train Your Dragon property, announcing this week that a new game boasting an original story will launch alongside the upcoming third movie. It's called DreamWorks Dragons: Dawn of New Riders, and it's heading to Europe and the U.S. next February.
Hard to believe, but the Dragons series has been going strong for nearly a decade already, including a pair of hit motion pictures, a handful of video games and even a television series or two. The story will continue next year with the arrival of the new film, The Hidden World, which will be accompanied by a new game that actually breaks the traditional film-to-game mold. For starters, Dawn of New Riders isn't actually based on the movie.
When a movie and its tie-in game launch so close together, usually the game is a direct retelling of said movie. Every once in a while, though, a developer gets to weave their own tale. As we've seen with games like The Chronicles of Riddick and Wolverine, that typically results in a much better game, so hopefully that'll be the case with Dawn of New Riders.
While the movie will follow the beloved cast of characters on a new and harrowing adventure into uncharted territory, the game will star characters Scribbler and Patch. Scribbler is a bit of an odd duck and his dragon is no different, as it's apparently a hybrid creature. We know that the game will boast a new villain, Eir, and that she is somehow controlling dragons in order to carry out an evil plot. That sounds pretty similar to the plot of the first film, making me wonder if Eir is perhaps related to a previous series villain. We'll just have to wait until February to find out.
According to the announcement from DreamWorks and Outright Games, this new chapter in the Dragons franchise will boast plenty of fan service on top of all of the original content.
Players will get to fly to brand new locations, as well as familiar locales such as Havenholme and Valka's Mountain. You'll also meet characters from the movies and television shows along the way. The announcement makes the game sound like it's going to boast a pretty open world, which would make sense if you're going to be flying around on a dragon all of the time.
Along the way, Patch will earn new abilities that will come in handy both in combat and while solving puzzles. The game even sounds like it takes a page from The Last Guardian, as players will be able to guide both Scribbler and Patch as they work together to solve puzzles.
Given the fact that Dragons 3 launches on March 3, we wouldn't be surprised if the game's story either runs concurrent to or just before the upcoming film. But, again, we'll have to wait for DreamWorks to reveal more before we can be certain.
Your Daily Blend of Entertainment News
Staff Writer for CinemaBlend.