Kong: Skull Island Director Jordan Vogt-Roberts Made A Live-Action PUBG Trailer And It's Awesome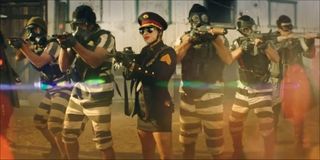 Movie director Jordan Vogt-Roberts, best known for Kong: Skull Island, has made no secret of his love for video games, particularly Hideo Kojima's Metal Gear Solid series, which kind of stands out on its own as a unique storytelling and gameplay experience. Well, Jordan decided to take his directorial skills and apply them to a video game, specifically, Player-Unknown's Battlegrounds.
The live-action trailer for the game clocks at close to two and a half minutes. It was uploaded over on the official YouTube channel for PlayerUnknown's Battlegrounds.
The trailer starts with a guy in a junkyard, and then switches over to a husky fellow who parachutes down, heads into a trailer and grabs a frying pan with a bullseye on it off a wall filled with guns. A pretty cool CQC fight ensues until he's forced to make a dynamic exit out the back of the trailer. There's another fight scene, followed by the main character teaming up with a young woman as they take down a group of enemies in a cornfield. All the meanwhile the guy in the junkyard is doing tai chi and reading Sun Tzu's The Art of War. After it looks like the main guy and girl get outnumbered, the hipster takes out all the bad guys by lending them a hand.
There are a couple of moments in the trailer that really standout and you can tell Jordan was paying an homage to popular film culture. For instance, before the shootout in the cornfield, the side-view fight-scene is a direct reference to Park Chan-wook's 2005 masterpiece, Oldboy. In the movie there was a long, tracking shot fight sequence that gave us a wide-angle side-view of all the action, just like in the PlayerUnknown's Battlegrounds trailer.
There's also some hints and nods towards Raiden's swordplay from Metal Gear Solid, and some Robert Rodriguez and Quentin Tarantino-inspired characters running around chasing the guy and the girl around the map.
Also, the school girl costume is an obvious nod to Kinji Fukasaku's original Battle Royale, which came out back in 2000, and was the movie that inspired the wave of Battle Royale modes and games being released today. It was also the original inspiration for PlayerUnknown's Battlegrounds, which went on to become a phenomenon and sell 30 million copies within one year, spawning multiple clones and imitators, and even convincing Epic Games to get in on the dig with the Battle Royale mode in Fortnite, which went on to make the company billions of dollars within a short span of time and help setup the foundation for the new Epic Game Store.
It's amazing how that chain of events unfolded, and it's also pretty cool to see Jordan Vogt-Roberts showing his love for video games and cinema by combining them together for the promotion of PlayerUnknown's Battlegrounds, which is set to launch on the PS4 starting December 7th. The game is already available right now on PC and Xbox One.
Staff Writer at CinemaBlend.
Your Daily Blend of Entertainment News
Thank you for signing up to CinemaBlend. You will receive a verification email shortly.
There was a problem. Please refresh the page and try again.