Watch The Voices Of Solid And Liquid Snake Read The Night Before Metal Gear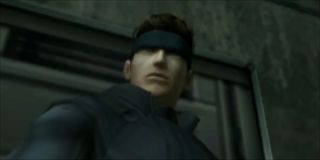 Voice actor Cam Clarke did a reading last year as Liquid Snake, but this year he brought something special to the table: antlers... and David Hayter. For this year's Christmas, the voices of Liquid Snake and Solid Snake came together to do a reading of a Night Before Metal Gear, and it's already blowing up on YouTube thanks to the great feedback from fans.
The six-minute video was posted up over on Cam Clarke's YouTube channel, and it features the two veteran actors at the table, decked out in red, and with a snazzy Christmas tree setup rocking the background. Hayter and Clarke don their iconic voices as the protagonist, Solid Snake, and the antagonist, Liquid Snake. The iconic poem has the words switched around so that instead of it being the traditional tale of A Night Before Christmas, the story centers around Snake invading a base, and a number of the iconic characters duking it out with their weapons.
It brings back some good old memories from when Metal Gear was still getting its roots grounded in the upsurge of the PlayStation's popularity. This was before Hideo Kojima began pursuing top Hollywood talent for his games.
Sadly after Metal Gear Solid 4: Guns of the Patriots, David Hayter was replaced for the adequate but somewhat taciturn characterization of Big Boss by veteran Hollywood actor Kiefer Sutherland. Cam Clarke, however, left the Metal Gear series behind following Metal Gear Solid: Twin Snakes, after he reprised his role as Liquid Snake and tactician "Master" Miller. In the subsequent games, Miller was voiced by Robin Atkins Downes. A lot of fans definitely took to Downes for his portrayal of Miller in Kojima's final outing in the series before being ousted from Konami, Metal Gear Solid 5: The Phantom Pain. It was the one game where Miller had a rather significant role in the title as one of the overseers of Mother Base, alongside Revolver Ocelot.
Having Cam Clarke return and voice Liquid alongside David Hayter gave gamers something special to sink their teeth into for the holidays, especially given that it's highly unlikely we'll see the duo performing together again on a noteworthy Metal Gear entry so long as Konami still retains the rights to the franchise. The last notable outing for the series before Konami began focusing on pachislot machines was Metal Gear Survive, which was a zombie-survival, cooperative shooter game that was met with a lot of resistance from the gaming.
On the upside, at least gamers can take some pleasure in being able to listen to David Hayter and Cam Clarke reprise their iconic roles from the game series for a little bit of Christmas cheer.
Staff Writer at CinemaBlend.
Your Daily Blend of Entertainment News
Thank you for signing up to CinemaBlend. You will receive a verification email shortly.
There was a problem. Please refresh the page and try again.