Stan Lee Tribute Added To World Of Warcraft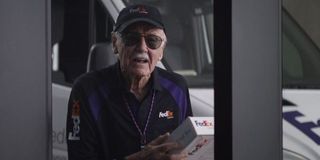 The latest World of Warcraft patch has arrived on the Public Test Realm and, with it, players have noticed a familiar face popping up: Marvel Comics legend Stan Lee.
As far as we can tell, Twitter user Bas Schouten was the first player to capture a screenshot of Stanley, a new NPC showing up in World of Warcraft. The character sports silver hair and a mustache, as well as aviator sunglasses, so he certainly looks the part of comics creator Stan Lee. It's also worth noting that Stan Lee's real name is Stanley Lieber, which pairs nicely with this new character.
If you're still thinking this could all just be a coincidence, then one final detail should help seal the deal. When he's not strolling around the map, Stanley can be seen occasionally waving and shouting "Excelsior," which was Stan Lee's famous catchphrase.
The real Stan Lee passed away at the age of 95 back in November of 2018 after a long and storied career in the comics business. He's the guy behind Marvel Comics and had a hand in the creation of everything from Spider-Man and the X-Men to Thor, Hulk, Black Panther, Ant-Man and beyond.
Its impossible to imagine what pop culture would look like today without Stan Lee, as the comics he helped create have gone on to become a part of our everyday life. The guy also clearly loved what he did, which is probably why he was so willing to have a cameo appearance in damn-near every Marvel project that's hit the silver screen over the past decade. He even appears in shows like Daredevil in clever ways (photo of a police chief in the background) and popped up in Into the Spider-Verse for a scene that had me tearing up both times I saw it in theaters.
I find it pretty cool that the folks at Blizzard decided to immortalize the "character" of Stan Lee by placing him in a massive game like World of Warcraft. Reports from players state that he can be found in Stormwind Keep, as seen in the tweet above. However, the patch update for the NPC includes a couple different outfits for Stanley to wear, such as a set of Orgrimmar gear. It would make sense that Stanley can also be found in a Horde city, so every player in the game gets a chance to visit the icon no matter which side they're fighting for. Other than the Stormwind Keep sightings, though, I can't find confirmation on where else Stanley can be found in the game.
Of course, given how the guy has become a staple cameo in so many films and whatnot, it makes sense that Warcraft players are going to have to work a little bit to spot him in these early goings. Feel free to let us know in the comments below if you're able to track him down somewhere else in the game.
Your Daily Blend of Entertainment News
Staff Writer for CinemaBlend.