Mortal Kombat 11's Stream Has Been Postponed Due To Weather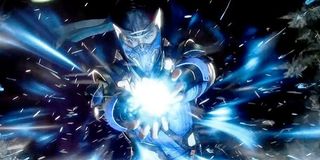 This week's Mortal Kombat 11 livestream, known as the Kombat Kast, has been postponed to next week due to sub-zero temperatures. I realize that reads like it's a joke due to the fact there's a character named Sub Zero in the game, but seriously, it's super cold in Chicago right now and that's where NetherRealm Studios is located. Here's what the studio had to say:
The above tweet went out this week letting folks know that the MK11 stream is being pushed back to next Tuesday, Feb. 5, at 3 p.m. CST. The tweet mentions a "dangerous incoming storm," which fans would be excused for assuming was some sort of clever reference to the game. The latest Mortal Kombat features an ice-slinging character by the name of Sub Zero and the god of lightning himself, Raiden, but NetherRealm wasn't actually making a cheeky reference to the focus of the upcoming stream.
Instead, the company was referencing the actual storm slamming into Chicago right now, all part of that brutal polar vortex you've likely been hearing so much about. While snow has been dumping on the city this past week, that was only the tip of the iceberg, so to speak. Temperatures are hovering around -16 degrees as of this writing and with the wind chill thrown into the mix, it's expected to get as low as -60. That pretty much makes Chicago the coldest place on the planet at the moment, which isn't exactly ideal conditions for hosting a video game stream.
Based on the tweet, it looks like NetherRealm isn't expecting its employees to make the frigid trek to the office for the stream, which seems like a wise decision, considering recent warnings from the National Weather Service. It's so bad that the company is encouraging folks to refrain from breathing deeply or talking too much, which are two things you'd probably be expected to do while streaming Mortal Kombat 11, assuming you could even make it into the office. The team also likes to bring in guests for these types of streams and, again, you can't really ask folks to go full Iron Will just to take part in a stream.
So, if you were looking forward to seeing Mortal Kombat 11 in action again, it looks like you're just going to need to exercise a little patience. Besides, it's not like we're starving for details at this point. The latest fighter from the NetherRealm crew was first revealed a little over a month ago during The Game Awards. Since then, they've had a full-on media blowout including a story trailer, a dissection of some of the revealed characters' fatalaties, top players actually going toe-to-toe in the game and more. If you're looking to pass the time between now and the rescheduled stream, feel free to drop by the game's YouTube page and dive in.
Otherwise, look for Mortal Kombat 11 to launch on April 23 for PlayStation 4, Xbox One, PC and Nintendo Switch.
Your Daily Blend of Entertainment News
Staff Writer for CinemaBlend.