38 Studios Stays Afloat, Project Copernicus Coming In June 2013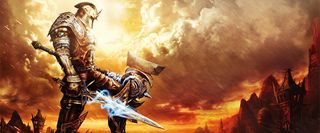 After a tense few days, it seems that Kingdoms of Amalur creator 38 Studios is out of financial trouble for the meantime. They successfully made their first loan payment to the state of Rhode Island. However, they've still got plenty of money to pay.
38 Studios was lured from Massachusetts to Rhode Island by a $75 million loan guarantee in 2010. In exchange, 38 Studios promised to create 450 jobs in the state by the end of this year. The developer paid a total of $1.125 million to Rhode Island this week. They'll owe $2.6 million by November 1st, and an additional $12.6 million over the course of 2013.
Rhode Island governor Lincoln Chafee held a press conference on the matter Thursday (via WPRI). He said that 38 Studios will need to seek money from private investors. They won't be getting anymore money from the state. In fact, Chafee says that Rhode Island won't engage in any deals like this again.
"Never, never ever. Not under my watch," said Chafee.
Any sort of entertainment company is a risky venture but 38 Studios seems like an especially risky one. The studio hadn't released any games before they secured the loan. Furthermore, they're making an MMO, which tends to be riskier than most games because of the scale and cost.
Their MMO, Project Copernicus, is set in the same world as single-player RPG Kingdoms of Amalur: Reckoning. Reckoning was developed by Big Huge Games, a company bought by 38 Studios in 2009. It was released earlier this year and while it reviewed well, sales apparently weren't good enough to solve all of 38's money problems.
One positive thing to come from all of this drama is that we now know when to expect Project Copernicus. Chafee mentioned that he believed it would be coming in June of next year. I assume 38 Studios probably gave him this estimate during their talks this week. Or maybe he just pulled it out of his ass. Either way, it's a concrete release window to look forward to.
Staff Writer at CinemaBlend.