APB: Reloaded Fight Club Mode, Two New Maps Coming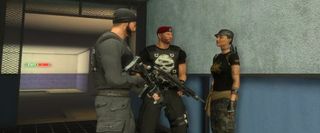 GamersFirst certainly hasn't been sitting on their hands when it comes to content for APB: Reloaded. The free-to-play publisher is working on an intriguing new mode called Fight Club as well as two brand new maps for the open-world MMO.
So what is this Fight Club mode you ask? Well, you obviously forgot about the first rule of Fight Club…you don't ever talk about Fight Club. Seriously, though, I'm not entirely sure but word is on the forums is that it's a focused deathmatch mode of sorts, throwing players in a seedy situation to duke it out against other players. The full rules of the mode still aren't clear but it appears Fight Club is being aimed at clan competitions and tournaments, with 12 vs 12 and 20 vs 20 bouts being made available.
The good news is that the mode will undergo testing November 21st at 10:00am PST. The only downside is that only premium members are eligible to test out the new maps, rule-sets and the new modes. This means that if you want to join in on the limited-closed testing of Fight Club you'll need to sign-up like right now and get a premium account, assuming you think it's worth it.
Additional challenges, missions and details included within the Fight Club mode will be revealed soon. Gamers who really want to test their mettle will need to have a premium account active and live before November 21st at 10:00am PST / 18:00 UK / 19:00 CEST in order to be considered for the limited Fight Club testing.
For further information on the free-to-play open-world customization heavy MMO, be sure to pay a visit to the Official Website.
Your Daily Blend of Entertainment News
Staff Writer at CinemaBlend.
Your Daily Blend of Entertainment News
Thank you for signing up to CinemaBlend. You will receive a verification email shortly.
There was a problem. Please refresh the page and try again.