Ace Attorney 6 Gets Japanese Release Date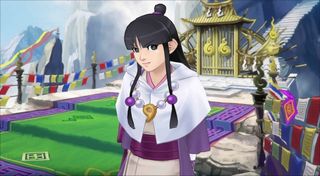 Capcom just released some new trailers for Ace Attorney 6 for the Nintendo 3DS. The trailers reveal that the latest game in the series is set to arrive on June 6th for Nintendo's handheld gaming device. The trailers cover the game's new and improved graphics, as well as some of the special bonus outfits that will be included for the three main characters.
Shacknews did a write-up on the game's June release date and even speculates that, while a Western release hasn't been ironed out just yet, they don't put it past Capcom to reveal the official North American release for Ace Attorney 6 sometime around E3. You can check out the new trailer announcing the Japanese release date below.
The first trailer doesn't really showcase much, but only covers the two trials that will be present in the upcoming Ace Attorney game, as well as the game's three bonus outfits that put Phoenix Wright in a cheap looking red suit, and shirtless with a cheap necklace and a black collar. Apollo Justice is in a traditional Chinese button-up garb, black with white trimming underneath. Athena Cykes gets the more flamboyant outfit, wearing a white and orange maid outfit with a red bow at the center. Given how much some people love maid outfits, it's not surprising that that particular outfit might be fairly popular with some Ace Attorney fans.
The bonus outfits will be available only for the early copies of the game up until June 29th, so fans will have a limited time to get their hands on the extra clothes.
The second trailer focuses more on the characters and scenarios involving the main trial of Ace Attorney 6. Players are introduced to various characters and given a brief synopsis of the trial while images of witnesses and suspects flash by to give gamers a short smattering info on what to expect from the title. It also teases the release date, pricing and more of the bonus trials and clothes as well.
However, that's not all. Gematsu is reporting that Capcom has unveiled a playable demo for the newest Ace Attorney game.
The best part about it is that you don't even need a Nintendo 3DS to play the Ace Attorney demo. It runs right from the comfort of your web browser and allows you to get in some brief time with the title ahead of its release in Japan this summer. You can play the demo right now with the "Trial Play" web browser plug-in that you can access over on the Capcom game website. It takes a while to load but fans eager to play the game probably won't care.
Alternatively fans who can't speak Japanese will just have to wait until Capcom announces a North American and European release date for Ace Attorney 6.
Staff Writer at CinemaBlend.
Your Daily Blend of Entertainment News
Thank you for signing up to CinemaBlend. You will receive a verification email shortly.
There was a problem. Please refresh the page and try again.