Activision Announces NPPL Championship Paintball 2009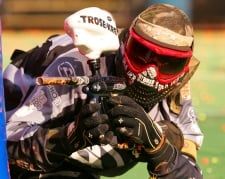 Greg Hasting, move over. There's a new first-person simulation of a sport that simulates projectile combat that just walked into town, and Activision is calling it NPPL Championship Paintball 2009. Already being hailed as the best paintball game some paintball players have ever played – even though that's not really saying much, due to the lack of competitive paintball games – NPPL 2009 could redefine the FPS experience as we know it.
It's not often that paintball games come along, or original games for that matter, but we're accepting of them whenever they do rear their heads onto the gaming scene. And with developmental support from some of the league's best, Activision is hoping to put a spotlight on this underrated sport simulation.
"NPPL Championship Paintball 2009 captures the raw intensity of hardcore paintball in this new breed of extreme sports / first person action entertainment," Dave Oxford, Activision Publishing. Shawn Walker, NPPL President also had some comments to share in the press statement, saying "We appreciate the fact that the bar has been raised with extreme sports games, and that paintball enthusiasts demand an obsessive attention to detail. Our goal has been to over-deliver in a way that pleases both camps," said Shawn. "It's been a long wait for next-gen paintball experience, but the work on NPPL Championship Paintball 2009 has paid off and the game is a huge step forward for the genre and the sport."
Much like Greg Hastings' Tournament Paintball from the last console generation, NPPL Paintball will feature authentic gear, multiple game modes, various tournaments, a skill-based progression system, and online multiplayer modes. Doesn't sound bad, if you ask me.
Ryan Greenspan of the world champion San Diego Dynasty paintball team, commented that... "We've gotten to play the game quite a few times along the way, and it is definitely the best paintball game we've ever played. The graphics are amazing, it's lots of fun, and super realistic. The beautiful thing is that people are going have an absolute blast playing it from the most hardcore paintball junkies to those who might never have even tried the sport. The breadth of its appeal is huge."
The game is set to hit retail shelves later this year for the Xbox 360, PlayStation 3, PlayStation 2, and Wii. Be sure to stay tuned in with Blend Games for more information and news regarding this intriguing new paintball game, or visit Activision's Official Website for more details.
Staff Writer at CinemaBlend.
Your Daily Blend of Entertainment News
Thank you for signing up to CinemaBlend. You will receive a verification email shortly.
There was a problem. Please refresh the page and try again.