Adam Levine Sues Activision Over Band Hero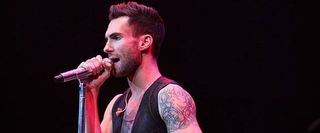 Looks like Maroon 5 frontman Adam Levine finally got around to playing the 2009 game Band Hero, a game featuring his name and likeness. He filed a lawsuit in Los Angeles Superior Court on Thursday alleging that Band publisher Activision exploited him.
Band Hero is an off-shot of the Guitar Hero franchise. The difference between BH and GH is that the former's song selection leans more toward pop than rock. For example, the Spice Girls and Hillary Duff both appear on the soundtrack for Band Hero.
Levine allowed Activision to include Maroon 5's song "She Will Be Loved" in the game. He also let the developers motion-capture him for an in-game avatar, so players could "be" Levine while they sang that tune. This was all fine with the singer.
What Levine didn't like, though, was that Band Hero lets players use his avatar for performing the game's other songs. Furthermore, those songs uses other people's voices, "including female voices." Shorter version of the lawsuit: "They made me sound like a girl!"
Does it really hurt Levine in any way for people to use a virtual version of him to sing a Taylor Swift song? Well, no. It sounds like he just wishes he got more money for this. The lawsuit (via Reuters) alleges that Activision had sought permission from other artists to use their avatars for more than just their own songs. Furthermore, those artists were paid more than he was.
Levine is seeking unspecified damages for Activision's "fraudulent inducement, breach of contract, violation of the common-law right of publicity, and unfair business acts or practices."
Your Daily Blend of Entertainment News
Staff Writer at CinemaBlend.