Aliens: Colonial Marines Concept Art Shows New Xenomorph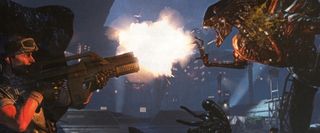 Spanish magazine Hobby Consolas has brand new game scans and concept art for the upcoming first-person shooter from Gearbox Software, Aliens: Colonial Marines. The art shows off the marines, because well, it's about the marines, as well as a brand new design for a never-before-seen Xenomorph, or alien.
The scans were picked up by the Aliens-omniscient enthusiast site, AVP Galaxy, where they let readers grab a look at some of the new concepts that were being tossed around for the upcoming game.
There's kind of a lot riding on this title being good because Rebellion really dropped the ball with their last Aliens Vs Predator game, which had so much potential fallen by the wayside (poor mission scripting, obsequiously bad AI and odd mechanic choices for Predators and Aliens). One of the highlights of Colonial Marines is that it's using the same color grading and film grain to give the game the same tone and feel from Cameron's Aliens film.
The only thing Gearbox really needs to hammer down now are the survival-action aspects that made the first two movies so beloved, feared and down-right fun. You can check out the brand new scans from the Spanish maggy below or feel free to learn more about the upcoming title by paying a visit to the Official Website. Aliens: Colonial Marines is due out this fall for the Xbox 360, PS3, PC and Wii U.
Image 1 of 8
Your Daily Blend of Entertainment News
Staff Writer at CinemaBlend.