Armored Core 4 'Promo' Trailer For Xbox 360 And PS3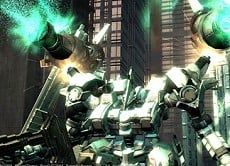 From Software's venerable kick-butt mech series has made it to its fourth installation, and the game is coming fully packed with possible on-line play for up to 8 players, customizable mechs, and tons of explosions. Get an inside look at this next-gen metal-and-guns robot shooter with Sega's recent promo trailer.
The director of Armored Core 4 and current CEO of From Software, Naotoshi Zin, talked with several sources, including IGN, about the progress of the series. He also touched over the possibility of what us gamers can expect from the next installation of Armored Core on the PS3 and Xbox 360. This includes the daunting task of delivering multiplayer over the PS3 and Xbox 360's on-line services, and allowing for the same complex and tense-driven gun battles.
One thing has been confirmed, and that's the customization feature will now allow players to build Armored Cores that aren't necessarily stat driven. That's a huge plus, as the only create-a-(inset title here) that seems to flourish with creativity is the one from Yuke's Smackdown vs. Raw series. Mainly, though, it's because wrestling has so many layers to...uhh...the "combat". Anyway, Armored Core 4 is scheduled to be released on December 31st in Japan and the end of the first quarter of 2007 in North America.
In the meantime, you can check out the promotional video for Armored Core 4 below, courtesy of Gamevideos.com.
Staff Writer at CinemaBlend.
Your Daily Blend of Entertainment News
Thank you for signing up to CinemaBlend. You will receive a verification email shortly.
There was a problem. Please refresh the page and try again.