Assassin's Creed 3 Hidden Secrets Pack Hits Xbox 360, PS3, PC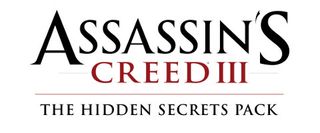 Ubisoft has released the first DLC pack for Assassin's Creed 3, entitled The Hidden Secrets. Secrets, providing new single-player and multiplayer content, will be exclusively available to Season Pass holders for one week.
The Hidden Secrets Pack provides three new missions: the Lost Mayan Ruins, the Ghost of War, and a Dangerous Secret. All told, it's about an extra hour of gameplay. Each mission will provide Connor with new weapons.
The DLC also features a few new fashion options. In the campaign, you'll be able to dress up as the Captain of the Aquila or suit up in Colonial Assassin garb. The Redcoat and Sharpshooter characters will be unlocked for multiplayer.
The Season Pass, priced at $29.99, provides access to all five DLC packs of AC3. Buying the Pass is said to be 25% cheaper than buying each DLC pack individually. Future content will include a new campaign called Tyranny of King Washington.
Xbox 360, PS3 and PC gamers without the Season Pass will be able to download the content on December 11th. A Wii U release is also planned but no date was provided yet.
Staff Writer at CinemaBlend.
Your Daily Blend of Entertainment News
Thank you for signing up to CinemaBlend. You will receive a verification email shortly.
There was a problem. Please refresh the page and try again.