Assassin's Creed 4 Is 15-20 Hours Long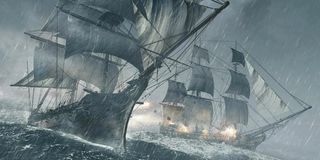 Assassin's Creed 4: Black Flag's campaign will take 15-20 hours long. However, Ubisoft is hoping you spend much more time in the massive world they've created for the game.
"We don't talk about it in terms of size, that would be a little bit unfair - there is a lot of ocean in the Caribbean. But it is the biggest game we've ever made," game director Ashraf Ismail told Eurogamer.
AC4's depiction of the Caribbean will take awhile to traverse. Ismail says that sailing from one end of the map to the other would be about a half-hour journey. Fortunately, you'll be able to avoid save some time with an updated quick-travel system. The quick-travel in AC4 allows you to instantly warp to any sync-point you've found in the world. That should cut down on the monotonous commute to and from missions that plagued Assassin's Creed 3.
The open ocean isn't just empty space, though. Players will be able to engage in side activities like shark hunting and naval battles. They can also dive beneath the waves to find sunken treasure. All that being said, I'm glad to have the opportunity to warp across the Caribbean if I'm in the mood to focus on the story missions.
Creating such a massive world has a price, though. Ubisoft simply didn't have the resources to develop another Assassin's Creed for Vita. Assassin's Creed 3: Liberation, an exclusive for Sony's handheld, launched alongside the console and PC game last fall. However, Liberation developer Ubisoft Sofia is actually contributing to AC4 this time around.
"From a resource standpoint, the team that worked on Liberation is actually working with us on AC4," Ismail said. "They're developing a specific part of the game for us. The amount of people working on AC4, Watch Dogs - that's a massive game - the focus within Ubisoft right now is on these two games, and then you have The Crew and The Division as well."
While Liberation won't be getting a sequel, the game will sort of live on in AC4. The PS3 and PS4 versions of the game will ship with side missions starring Liberation protagonist Aveline.
Image 1 of 4
Staff Writer at CinemaBlend.