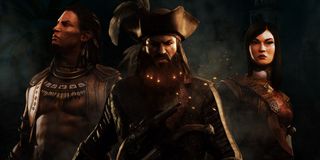 Ubisoft is releasing the first multiplayer DLC for Assassin's Creed 4: Black Flag today. The Blackbeard's Wrath add-on will be available on PS4, PS3, Xbox One, Xbox 360 and PC.
Assassin's Creed 4's multiplayer allows players to stalk and kill each other in open-world environments. Players looking for a more cooperative experience can team up in Wolfpack to hunt down A.I. targets.
Blackbeard's Wrath provides three new characters for online play. It's a diverse group from all corners of the globe:
The DLC can be purchased for $2.99 on all platforms. Alternately, you can buy the $19.99 to get the Season Pass. The Pass will also include future multiplayer characters as well as a single-player campaign called Freedom Cry. Edward Kenway's first mate Adewale, now a trained Assassin, will use his new talents to free a slave community over the course of Freedom Cry's nine missions. Season Pass Owners are also entitled to an exclusive Kraken Ship Pack that makes Kenway's ship look like a sea monster.
Blackbeard's Wrath is already on Xbox Live. Look for it on PC by early afternoon (Eastern time) and on PlayStation platforms around dinner time.
Image 1 of 6
Your Daily Blend of Entertainment News
Staff Writer at CinemaBlend.