Assassin's Creed Creator Announces New Action Game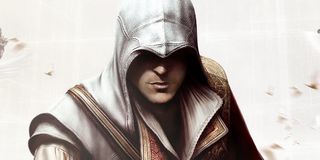 Assassin's Creed creator Patrice Désilets has officially announced his next game. He and his studio Panache Digital Games are working on a historical adventure called Ancestors: The Humankind Odyssey.
"Our game is a third person action-adventure survival episodic game," reads an announcement on Panache's website. "Through each episode, we want the player to relive the greatest moments of mankind with a documentary twist. Our civilisation is one idea away from extinction... or evolution."
That's unfortunately the extent of the announcement. We still don't know what platforms the game is targeting or when we can expect it. Panache says that they'll share additional details later in 2015.
When Désilets teased this new game a few months ago, some assumed that he was just going to make an off-brand Assassin's Creed game. You could interpret today's announcement that way as well if you wish. After all, Ancestors is going to be a historical third-person action game. However, the mention of a "documentary twist" and "survival" don't fit that theory.
Whatever Ancestors ends up being, it's not a tiny game. Désilets previously described his studio as a AAA developer.
What's unclear, though, is how they plan to fund Ancestors. Do they have a publisher lined up or should we expect a Kickstarter campaign soon? The latter is becoming more and more common these days, thanks to the hugely successful campaigns for games like Pillars of Eternity and Broken Age.
Panache was officially founded in December 2014. The five initial team members are all former employees of Ubisoft with experience on the Assassin's Creed and Splinter Cell series. Désilets directed the first two AC games and left midway through the development of the third, AC Brotherhood.
Although Panache's employees have experience with Ubisoft, I doubt the company is publishing Ancestors. Désilets had a rough parting-of-ways with Ubisoft. After leaving the company in 2010, he joined THQ Montreal and began working on a game called 1666. When THQ went belly-up, Ubisoft bought their Montreal studio and 1666 in January 2013. Désilets was fired soon after rejoining Ubisoft.
"I was notified of this termination in person, handed a termination notice and was unceremoniously escorted out of the building by two guards without being able to say goodbye to my team or collect my personal belongings," Désilets said at the time. "This was not my decision. Ubisoft's actions are baseless and without merit. I intend to fight Ubisoft vigorously for my rights, for my team and for my game."
Your Daily Blend of Entertainment News
Staff Writer at CinemaBlend.
Your Daily Blend of Entertainment News
Thank you for signing up to CinemaBlend. You will receive a verification email shortly.
There was a problem. Please refresh the page and try again.