Assassin's Creed Is Heading To Russia And India Next Year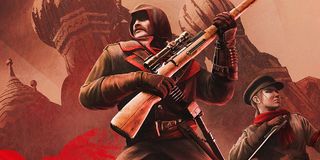 Assassin's Creed fans will be able to travel to Russia and India in 2016. Ubisoft has announced that the second and third episodes of the Assassin's Creed Chronicles trilogy will debut in January and February, respectively.
Assassin's Creed Chronicles: India, landing on January 12th, takes players to the 19th century during the conflict between the Sikh Empire and East India Company. The player is Arbaaz Mir, an Indian Assassin with an important mission. Mir must steal back an important item of the Assassins Order from a Master Templar. He must also protect his loved ones from other Templars.
The third chapter, Assassin's Creed Chronicles: Russia, will then complete the trilogy on February 9th. The Russian chapter stars Nikolai Orelov, previously introduced by Ubisoft via comic books. Orelov, like Mir, finds himself carrying out missions for the Assassins while a larger conflict looms in the background. Here's the official description of his story:
China, the first entry in the Chronicles trilogy was released back in April 2015. That opening chapter starred Shao Jun, a Chinese assassin trained by AC2 star Ezio Auditore in the film Assassin's Creed: Embers. Shao Jun returns to China to exact revenge on the Templars.
The Chronicles chapters vary from the main AC series in that they're not open-world games. Instead, they're 2.5D action-platformers. Each Chronicles game also has a unique visual style. India looks like an oil painting while Russia more closely resembles a comic book or propaganda poster.
Players can purchase each episode of Chronicles separately or as part of a Trilogy Pack. The Trilogy Pack will be available digitally on PS4, Xbox One and PC starting February 9th. PS4 and Xbox One owners can also buy boxed copies on that day. Ubisoft (opens in new tab) plans to release the trilogy for PlayStation Vita on April 5 as well.
Staff Writer at CinemaBlend.
Your Daily Blend of Entertainment News
Thank you for signing up to CinemaBlend. You will receive a verification email shortly.
There was a problem. Please refresh the page and try again.