This Assassin's Creed Video Shows Off Every Hilarious Bug In The Series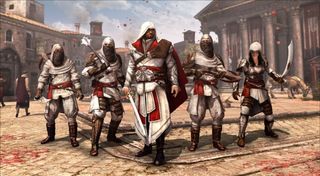 While not every bug from every Assassin's Creed makes the cut, there is a hilarious three minute video featuring a selection of odd occurrences, glitches, silly goofs and laughable gaffs that fill up just about every single second of the video.
YouTuber Rabbit's Respawn posted up the three and a half minute video filled to the brim with Assassin's Creed hilarity, spanning several of the games. Check it out below.
The video starts off with a face-to-face showdown with an NPC. From here you can expect what follows – actually it's a short montage of the lead character running from hordes in the different games. Said games include the original Assassin's Creed, Assassin's Creed II: Brotherhood, Assassin's Creed IV: Black Flag and Assassin's Creed Unity. Sadly there is no Assassin's Creed III in the compilation for whatever reason.
Following the chase montage we see a shotgun blast take out a group of guys and following that things start getting really interesting. We see a group of guys get wiped out with a single sword cut, a montage of the protagonist making giant leaps to his death, and then a hilarious sequence where an NPC gets trapped in a climbing loop while falling into the water below... except he doesn't. It's a real mind trip. All of that takes place within the first 40 seconds of the video.
At the 1:45 mark there's a corridor of bodies, which is both frightening and funny at the same time. A collage of animals being killed follows thereafter but another interesting sequence is where a group of NPCs are struggling against a building and the player-character, Arno, walks up in between them and they drop the gun and just disperse. It's hilarious.
The best and final segment is a soldier who charges at Ezio near a cliff-side. The horse takes a tumble and the soldier falls down the cliff below... but he doesn't die! After taking the tumble the soldier goes through the painstaking journey of climbing back up the cliff and running alongside the pathway back to where the event transpired. However, the soldier must have suffered a mean case of short term amnesia because – while positioned right near Ezio – he asks if anyone has seen the fellow who killed his teammates. Hilarious.
It's likely we'll see all manner of bugs pop up in Assassin's Creed Syndicate, so don't be surprised if a video comes out shortly after the game releases. I'm also kind of shocked that Ubisoft didn't hammer Rabbit's Respawn with a copyright strike to keep the video from going viral – and if he ever gets around to adding the Benny Hill theme song it'll likely speed up the process in which the video goes viral.
All of the Assassin's Creed games featured in the video above are available right now. The latest game from Ubisoft, Assassin's Creed Syndicate, is getting the finishing touches added to it as it preps for a big fall release.
Staff Writer at CinemaBlend.
Your Daily Blend of Entertainment News
Thank you for signing up to CinemaBlend. You will receive a verification email shortly.
There was a problem. Please refresh the page and try again.