Avatar Karting Now Available For Xbox 360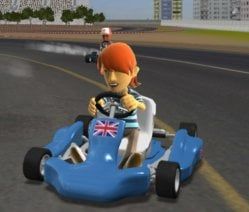 What an innovative title that MS seems to have forgotten about: go-karting with Live's Avatars! Indie studio Rendcore Games announced today that the new kart racing title for the Xbox 360 via XBLIG is currently available for purchase for only 80 MS Points…yeah, take that Mario Kart.
As the title suggests, players will man a go-kart using their very own customized Xbox Live Avatar, and hit the road on up to 16 tracks. Much like it's Wii counterpart, the game's heavy replayability factors reside in its local and online multiplayer including split-screen options. Now that's how you get it done.
You can pick up a copy of Avatar Karting from the Xbox Live Indie Games channel right now. If you're a little skeptical about spending those 80 MS points, check out a list of the features for the game below before diving in with the budget-priced purchase. Need even more info? Feel free to visit the Official Website.
Avatar Karting Features
• 16 reversible circuits
• Challenging computer opponents
• Single Race, Time Trial and Championship modes
• Online Multiplayer over Xbox Live and System Link
• Local Multiplayer on split screen
• Global Rankings
• Turbo Boost
• Autobrakes option
• Rewind ability
Your Daily Blend of Entertainment News
Staff Writer at CinemaBlend.