Battlefield 3 Patch Goes Live On PS3, Adds Rent-A-Server And DLC Shortcuts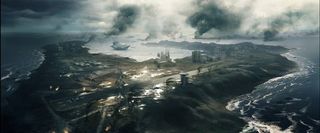 DICE is releasing a huge patch today for the PS3 version of Battlefield 3. The 1GB update, which makes a number of tweaks and fixes to the shooter, is live in all territories except Japan.
The patch smooths out many of the rough spots of the game. For example, players can no longer use MAVs like elevators. Furthermore, most of the weapons and accessories have been rebalanced to make them more comparable in quality. PS3 owners suffering from input lag can now turn off anti-aliasing.
The PS3 update also introduces a 5-flag version of the "Wake Island" map. This new version gives you two more control points to attack/defend. In this edition of "Wake Island," the mobile anti-air vehicles spawn at the Beach base, making it a more important location to hold.
PS3 owners can now rent game servers through an in-game menu. You'll be able to create your own custom BF3 experience by specifying every little setting. Here's a run-down of the prices:
One day: $1.49
One week: $6.99
One month: $24.99
90 days: $64.99
"Please note that in order to provide a robust and stable experience, we will be rolling out this functionality incrementally throughout the following week," said DICE. "This means we will have limited availability today, ramping up towards maximum capability in about one week's time. If you try and rent a server and the option is grayed out, it means we are currently at peak capacity. If so, please try again later, as we will ramp up capacity every day."
Today also marks the release of 10 "shortcut" items for Battlefield 3. Purchasing a shortcut will allow you to instantly unlock items or abilities in multiplayer. Here are a few examples:
Kit Shortcut Bundle: Immediately unlocks all items unique to the four playable classes
Vehicle Shortcut Bundle: Immediately unlocks all items for all vehicles
The Ultimate Bundle: Immediately unlocks all items from all other available shortcut packs
DICE plans to launch this patch on the PC and Xbox 360 "soon" but hasn't announced a specific date yet.
Staff Writer at CinemaBlend.