Battlefield 3 Ships 10 Million Copies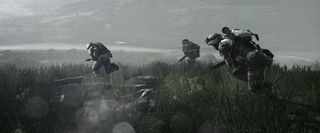 Battlefield 3's first week in stores seems to be going well so far. While providing their Q2 financial results, EA revealed that the game has shipped over 10 million units thus far and hit 3 million in pre-sales.
According to EA CEO John Riccitiello, BF3 managed to best the sales mark set by Medal of Honor last fall.
"I think it was like 3 to 4 day one, and over the course of the first month, we got — over the first couple of weeks, we got 2 by 5," he recalled. "So it's actually larger than that. Of gapping it over Battlefield: Bad Company 2, I call Bad Company 2 between the two would be the best way to think about that."
Though BF has traditionally been a multiplayer powerhouse, Riccitiello said that single-player is integral to the series' success as well, because it's how "new players ramp into the game."
"It's the way new players usually get exposed to a franchise," added EA Labels president Frank Gibeau. "I think you have to have both, and clearly the multiplayer is the richer opportunity for us because of the services opportunity in keeping a customer engaged 365 [days a year]," added Gibeau. "It's a great question because we consider Battlefield an online service. First and foremost, that brand was built on its multiplayer prowess, and the technology really lends itself to that."
EA hopes to capitalize on the game's strong debut with extensive post-launch DLC. For example, the first expansion pack is due in December.
"First and foremost, we have a fairly aggressive downloadable content plan out in front of us," said Gibeau. "We've already announced the [Return to Karkand] Map Pack that is going to becoming available and we'll be constantly updating on the servers and infrastructure with new features and enhancements. Our plans over the next 6 months is to have a very robust set of expansion packs past on [Return to Karkand] and that we think the community's going to be very, very excited about."
BF3 launched in the US on October 25th. It hit Europe today. I'd imagine EA will make another announcement once the American and European combined sales hit a nice, rounded number.
Staff Writer at CinemaBlend.
Your Daily Blend of Entertainment News
Thank you for signing up to CinemaBlend. You will receive a verification email shortly.
There was a problem. Please refresh the page and try again.