Battlefield 3 And Wall-E Collide In Epic Video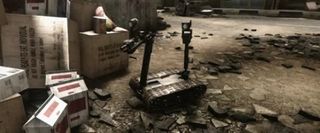 The EOD Bot in Battlefield 3 is a popular subject for fan videos. Players have made lots of funny videos starring that goofy bot but this latest effort, a parody of the Pixar film WALL-E, could be the best one yet.
WALL-E, released back in 2008, starred a lonely maintenance robot on a now-abandoned Earth. When a more advanced robot named EVE lands on the planet, Wall-E is immediately smitten. The original trailer is below if you need a refresher.
What the BF3 video does is take the audio directly from the Wall-E trailer and substitute in BF3 footage. The EOD Bot plays Wall-E while the MAV fills in for EVE. It made sympathize enough with the EOD Bot to actually start using it in the game - okay, maybe not.
Hats off to the dedicated fans who take a break from gaming just to deliver these kinds of videos. Now that the Skyrim mod tools are out, perhaps a new flood of film parodies are on the way.
Staff Writer at CinemaBlend.
Your Daily Blend of Entertainment News
Thank you for signing up to CinemaBlend. You will receive a verification email shortly.
There was a problem. Please refresh the page and try again.