Battlefield 4 PS4 Patch Will Make Your Game Somewhat Less Broken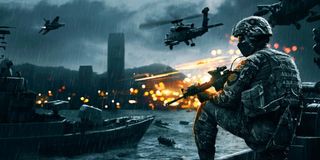 This morning DICE implemented a new patch for the PS4 version of Battlefield 4. It won't fix everything that ails the game but it'll make a dent.
BF4 has been plagued by several issues on PS4. The game abruptly crashes in single-player and multiplayer modes. Also, some users (including me) have had their campaign progress abruptly wiped out. At one point, DICE had to disable Commander Mode. They've since brought back Commander Mode and today's patch seeks to fix the remaining issues:
Fixed common crashes that could occur when changing weapons or maps
Reduced the probability of a corrupted save file in the single player campaign
Fixed a crash occurring when resuming the single player campaign
Fixed a bug where accessing PlayStation Plus subscription resulted in a connection error
Improved performance when shooting at destroyed Levolution objects
I think my favorite part of these patch notes is that they promise to reduce, rather than eliminate, the possibility of your save file being ruined. Nothing makes me want to hop back into the campaign faster than the assurance that my progress is now 10% less likely to be erased. The devs say that they'll continue to improve stability with later fixes as well.
DICE general manager Karl Magnus Troedsson apologized for BF4's launch issues this weekend.
"I am extremely proud of the people at DICE and everyone across EA that contributed to the development of Battlefield 4," Troedsson said at the time. "However, I am less proud to see that the game has experienced some turbulence during the launch period. While some platforms have had only minor problems, others have had more than their fair share of issues. Resolving the launch issues is our #1 priority. In fact, we are so serious that we have the entire team working to stabilize the game and we will not move on to other projects until we are sure that Battlefield 4 meets – and exceeds – your expectations. It is the right thing to do."
In addition to producing patches, DICE is also giving players a peace offering. Battlefield 4 players on all platforms will be able to earn double XP for a week starting on Thursday. They're also going to give players an exclusive 3X scope for the M1911 pistol.
The multiplayer and campaign problems have made for a very aggravating week for me. That being said, the multiplayer's been stable enough for me to enjoy it. BF4's every bit as good as Battlefield 3 (and in some respects better) when it's actually working. For a more complete summary of my thoughts on the game, check out my review.
Staff Writer at CinemaBlend.
Your Daily Blend of Entertainment News
Thank you for signing up to CinemaBlend. You will receive a verification email shortly.
There was a problem. Please refresh the page and try again.