Beatbuddy Soundtrack Now Available On Bandcamp And It's Groovy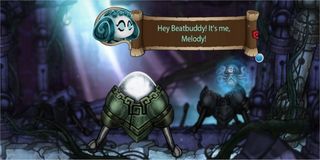 I'm supposed to be doing more impression pieces on a little indie title that's recently released called Beatbuddy: Tale of the Guardians, but time and Xbox One news has been keeping me from putting more time into the game. It's a game that definitely deserves the time, though, because it's one of the most audibly original games I've ever played and the music-puzzle, hand-painted side-scroller is one of the best delights this side of the indie scene.
Designed by Threaks and featuring a wide-ranging score from big and small names in the music scene alike, Beatbuddy carries an eclectic mix of music that spans from big-band trip-hop to lo-fi opera, as well as a bunch of other musical genres tossed into a mixing bowl of awesome. The soundtrack for the game is available right now for only €2.99. And don't worry about the Euro currency, us Yanks can still put down some coin to capture the soundtrack for ourselves.
Beatbuddy is a pretty simple story of high-adventure and world-saving antics. Players don the role of a Beatbuddy, an ancient musical species that can save the world during those really tough world-saving times. Without giving too much away, the game sees players immersing themselves in a broad range of some of the most over-the-top amazing songs you'll encounter in a game.
In fact, don't just take my word for it... you can listen to or buy the soundtrack right from the Bandcamp embed below.
The first track and theme song is the one that just stands out to me so much, entitled "Beatbuddy Swing" from Parov Stelar. It's such a groovy tune that really helps capture the game's offbeat musical tones depicted in visually animated spectacles. Stelar isn't the only one who contributes to the score, though... there's also Austin Wintory, Sabrepulse, Europa Deep, La Rochelle Band and Curtis Newton to round out the contributing artists list as well.
I suppose, though, one of the downsides to just owning the soundtrack is that you do miss out on the game's visual allure. While you're playing the game each of the track channels are singled out to specific elements within a level. Hi-hats are attached to some seaweed looking creatures while the bass drums pulse from a bulbous glowing orb. As you interact and discover more of these entities, the music fills itself out, adding more channels to the mix and broadening the scope of the song.
Things really kick into high gear when get inside of a beat-driven vehicle that only moves in conjunction with the beat of the music. As you're moving through the level there is this almost Disney-esque musical flair of grandiose animation that helps flesh out the entire experience. It's not entirely easy to capture, in words, the amazing audio experience that is Beatbuddy. However, if you enjoy music-driven games with an actual deep sense of exploration, puzzle-solving and originality, Beatbuddy kind of brings all of those elements in spades.
You can pick up the soundtrack right now from the Bandcamp page or you can grab a copy of the game right now from Steam for only $14.99. It's not your typical side-scroller, but if you're looking for something with sexy soundtrack and some groovy tunes, it's a game that really gets it done.
Your Daily Blend of Entertainment News
Staff Writer at CinemaBlend.