Beautiful Katamari - The Prince Rolls Gold, Plus New Screens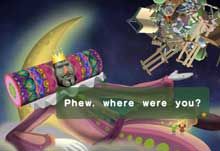 Xbox fans are finally going to feel what it's like to roll up junk as Beautiful Katamari prepares to make an appearance on the 360. The quirky game enamored gamers when it first appeared on the PS2. Still, rolling around in junk with crazy Japanese characters can't have a lasting appeal. Can it? Oh well, the Prince will be rolling soon as the game has gone gold.
Like the previous games, Beautiful Katamari showcases the Prince as he tries to right the wrongs of his father, The King of All Cosmos. It's still the same trippy game you've played before, just with a bunch more levels. For this version Namco Bandai has new and remixed Katamari-themed songs from J-Pop stars. You will also have access to more than 50 of the Prince's cousins to help keep things rolling. Using Xbox LIVE players will be able to compete with up to three friends online.
If you'd like to try before you buy, the Beautiful Katamari demo is available on the Xbox LIVE Marketplace now.
Image 1 of 18
Your Daily Blend of Entertainment News
Staff Writer at CinemaBlend.