BioWare Explains Dragon Age Delay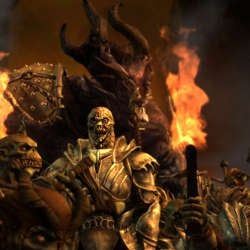 BioWare admitted last week that Dragon Age: Origins will be arriving a bit later than expected. In a new interview, executive produce Mark Darrah has explained why the fantasy RPG was pushed back.
"It's just taking an extra couple of weeks to get through the finalization process. We'll take any opportunity to spend a little bit more time making the game even better," Darrah told Gamespot.
Darrah added that the change in release date was not an attempt to capitalize on a lighter-than-expected November release schedule. "I think we try to make our games stand on their own. It's not about competing with other products, it's about making the game that our fans and the gaming public in general are going to like and enjoy."
DA:O was expected to arrive on the PC, PS3, and Xbox 360 on October 20th. Now the PC and Xbox 360 versions are anticipated on November 3rd in North America and November 6th in Europe. The PS3 version will be released later in November but no solid release date has been provided yet.
Staff Writer at CinemaBlend.
Your Daily Blend of Entertainment News
Thank you for signing up to CinemaBlend. You will receive a verification email shortly.
There was a problem. Please refresh the page and try again.