Bioshock Infinite Cosplayer Becomes Official Face Of Elizabeth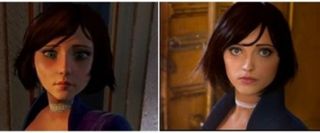 Cosplayers are a special group of fandom, spending countless hours and dollars creating intricate costumes to make themselves look like characters from their favorite anime, comics and video games. The developers over at Irrational Games were so impressed by a cosplayer taking on the role of Elizabeth from the upcoming Bioshock Infinite that they decided to give her a job.
The announcement was made official over on the Irrational blog, giving the details behind this unique hire and even including a Q&A with Elizabeth's uncanny lookalike, Russian fan Anna Moleva.
"We were so amazed by her dedication and her resemblance to Elizabeth that we decided to ask her if she'd like to be involved in helping bring Elizabeth to life in our box, our key art and our upcoming television ad," said Director Ken Levine in the post. He went on to say that Anna is now the "official face of Elizabeth," and that Irrational hope to have her along to play the character at upcoming events.
When it comes to selecting her cosplay characters, Anna said she looks for something that goes more than skin deep.
"I love Commander Shepard for one reason, the Cheshire Cat for another, and Horus for yet another," Anna said. "The bottom line is that the character needs to be three-dimensional, giving me room for thinking and self-development. Just like the game itself needs to be."
You hear that? That was the sound of about a million gamers falling in love. Check out Anna's full interview at the above link.
Staff Writer for CinemaBlend.
Your Daily Blend of Entertainment News
Thank you for signing up to CinemaBlend. You will receive a verification email shortly.
There was a problem. Please refresh the page and try again.