Black Sigil is the next Chrono Trigger?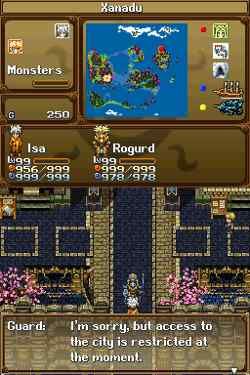 Ok, so it's not the next Chrono Trigger, but it looks like it could really be from the same team and the same era. If you're an RPG fan who has long since left the teen years behind, then you probably grew up on the great RPGs of the Super Nintendo era: Chrono Trigger, Final Fantasy III (it will always be III to me), and Breath of Fire. I still fondly remember playing each one of these games for hours a day after school. RPGs nowadays are fine and dandy, but they just don't seem to capture the same magic that I felt these games had fifteen years ago.
Enter Black Sigil: Blade of the Exiled for the Nintendo DS. All it took was one look at any screenshot (like the one to the right) to realize that this game is exactly what I have been looking for in an RPG for years. The team at Studio Archcraft are clearly powering the creation of this game with their love for SNES-era RPGs. Seriously, just looking at that font makes me pine for the days before I had multiple jobs and bills, and when I could just spend hours fighting evil and killing monsters. Thankfully, Black Sigil contains 40+ hours of gameplay, so it looks like we'll have a lot to do once it ships on March 17th. Check out the Black Sigil Website for more info on the game, as well as a bunch more screenshots.
Stay tuned to Blend Games for more information on Black Sigil as the release gets closer, and be on the look out for more screenshots and a review in the coming weeks.
Your Daily Blend of Entertainment News
Thank you for signing up to CinemaBlend. You will receive a verification email shortly.
There was a problem. Please refresh the page and try again.