Borderlands 2 Sir Hammerlock DLC Adds Aegrus, Fanboat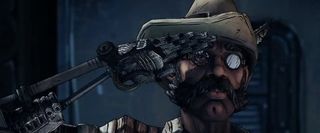 Today new details emerged for Sir Hammerlock's Big Game Hunt, the third DLC pack for Borderlands 2. The Hammerlock DLC will apparently add a new jungle continent for Vault Hunters to explore.
The features of Sir Hammerlock were unearthed by Reddit user MikeTheInfidel. He found the information by sifting through the files in the recent PS3 patch that revealed Hammerlock's existence in the first place. He did the same thing with the previous DLC, Campaign of Carnage as well, so he's a fairly reliable source.
The DLC's new continent is called Aegrus. It's filled with new enemies, including boroks and scaylions. Players will be able to navigate the waterways of Aegrus with fanbots, which can be created at Catch-a-Boat stations. The fanboat can be customized with 68 different skins as well as weapon mods.
Players can expect five story missions and 12 side missions. Many of the side missions involve tracking down monsters. Players will face off against a tribe of jungle savages as well as a new raid boss. The raid boss is said to be the size of a small building.
It wouldn't be a proper Borderlands 2 DLC pack, though, without loot. Sir Hammerlock will provide players with plenty of new shinies, including Seraph items. Furthermore, they'll get a chance to loot a treasure room with a time limit.
The release date for Sir Hammerlock isn't clear yet. However, new Borderlands 2 DLC generally arrives soon after new Trophies appear.
Staff Writer at CinemaBlend.
Your Daily Blend of Entertainment News
Thank you for signing up to CinemaBlend. You will receive a verification email shortly.
There was a problem. Please refresh the page and try again.