Burnout Paradise: Complete Edition Now Available Through PSN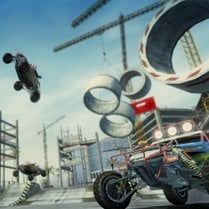 For a limited time, PS3 owners will be able to download Burnout Paradise: Complete Edition through PSN. The Complete Edition is a discount bundle including the base game as well as all of its previously released DLC.
Buying the game and its downloadable content separately would cost about $100. However, you can get the bundle off PSN for $29.99 until March 31st. Here's what you'll get in the Complete Edition:
Burnout Paradise Full Game with all free updates including Paradise Bikes and a full day/night cycle
Big Surf Island - All new Island to explore complete with the Dust Storm Buggy, new races, stunt runs and collectables to discover.
Party Pack - Pass-the-pad family fun for 2-8 players
Time Savers - Unlock all the cars and bikes in the original game.
Legendary Cars Collection - The Flying Jansen 88 Special, Awesome sounding Manhattan Spirit, Superb Cavalry Bootlegger and of course the GT Nighthawk.
Toys Collection - The Fan-favourites in extra special toy form. Small but virtually indestructible.
Boost Specials - If you're serious about competing, these are the cars for you. Multi-boost technology in the Hawker Mech and the Infinite Boost power of the Extreme Hot Rod.
Cops and Robbers - Take to the streets to chase down the gold as either Cops or Robbers in this new Online Game Mode. Includes All New Police liveries for all your favourite burnout cars
If you own Paradise, you can also buy a compilation of all the DLC for $19.99. Like the Complete Edition, the DLC bundle won't be available past March 31st.
Staff Writer at CinemaBlend.
Your Daily Blend of Entertainment News
Thank you for signing up to CinemaBlend. You will receive a verification email shortly.
There was a problem. Please refresh the page and try again.